LIGHT-HEARTED SWISS MERINGUES WITH RASPBERRIES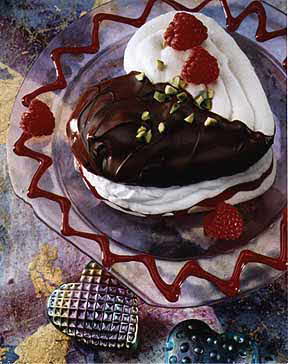 Treat your valentine with these melt-in-your-mouth meringues adorned with the flavor of raspberry and a thin layer of bittersweet chocolate. For a decadent dessert that is virtually fat-free, simply omit chocolate and nuts.
Makes 8 meringues
Serves 4

INGREDIENTS
MERINGUES
• 4 large egg whites, room temperature
• 1/2 teaspoon cream of tartar
• 1/2 cup + 2 Tablespoons granulated sugar
• 1/2 cup powdered sugar
• 1/2 teaspoon almond extract

RASPBERRY SAUCE
• (2) 10 oz. pkg. frozen raspberries in syrup, thawed

FILLING
• (1) pint frozen raspberry yogurt, softened or Light whipped topping, thawed
• (1) 12 oz. bag whole frozen raspberries, partially thawed, so that ice crystals still remain
• 7 oz. bittersweet chocolate (such as Lindt or Tobler), optional
• 1/4 cup shelled and chopped pistachio nuts (for garnish), optional

DIRECTIONS
Place oven racks in lower and middle positions, and pre-heat oven to 225°. Using waxed or parchment paper cut to fit baking sheets, trace eight 4" heart shapes about 1/2" apart. (Tart molds work great for this purpose.) Lightly grease waxed or parchment paper with cooking spray. Fit large pastry bag with 3/8" plain tip. Set aside.

MERINGUE
Place egg whites in large mixing bowl and beat on low speed of electric mixer until foamy and white. Sprinkle Cream of Tartar over surface and continue beating. Sprinkle 2 tablespoons granulated sugar over egg whites and increase mixer speed to medium, whipping until soft peaks form. (COOK'S NOTE: Soft peaks are identified by meringue tips that fall over when mixer is lifted. Stiff peaks are identified by meringue tips which stand up and do not fall over when mixer is lifted.) Gradually add remaining 1/2 cup granulated sugar, 2 tablespoons at a time, beating after each addition until sugar is dissolved and meringue feels smooth when tested between thumb and index finger. (If meringue feels grainy, continue beating.) When meringue is smooth and stands up in stiff, glossy peaks, beat in almond extract. Sift powdered sugar over meringue and fold in until barely incorporated.
Fill pastry bag with meringue and starting at top of heart, on outside edge, trace heart shape. Continue to inside without lifting tip - they need not be perfect. (COOK'S NOTE: When tested, we found it easiest to start with bottom tip of heart facing you.) Repeat this procedure seven more times for a total of eight meringue hearts. With remaining meringue, pipe at least two small mounds about 1 1/2" in diameter amid hearts on each baking sheet. (These will be used to test meringues toward the end of baking time.) Bake 1 to 1 1/4 hours, rearranging baking sheets after 30 minutes so that the lower sheet is in middle position, and middle sheet in lower position. Meringues should be checked after one hour, and are done when test meringue is easily removed from baking sheet and breaks crisply after cooling for 5 minutes . Remove baking sheets from oven and allow meringues to remain on parchment for approximately 30 minutes, until cool. (At this point, if wrapped in plastic freezer bags and stored in airtight containers, meringues will keep for months.)
Melt chocolate in double boiler over low heat. Dip four hearts so that about half of the heart is covered in chocolate, or use a spoon to drizzle chocolate over top. Set on waxed or parchment to harden. When chocolate has hardened, place in airtight containers until ready to serve.

SAUCE
Puree raspberries and syrup in blender or processor until smooth. Strain to remove seeds. (Can be prepared 1 day ahead. Cover and refrigerate.) Makes about 2 cups.

FILLING
When ready to serve, spread softened frozen yogurt or whipped topping over four plain meringue hearts. Spoon raspberry sauce over this filling, adding partially thawed raspberries. Top each with chocolate-covered heart.

Set meringues on dessert plates decoratively finished with raspberry sauce. Garnish with pistachio nuts.

NUTRITIONAL ANALYSIS
Calories Per Serving: 495; 11g Protein, 5g Fat,
105g Carbohydrate; 121mg Sodium; 1.5mg Cholesterol

Nutritional Analysis With Chocolate And Nuts Omitted:
Calories Per Serving: 432; 10g Protein, 0g Fat,
100g Carbohydrate; 121mg Sodium; 1.5mg Cholesterol

Oregon Raspberry & Blackberry Commission - www.oregon-berries.com/