Chocolate Raspberry Napoleons with Raspberry Mascarpone Cream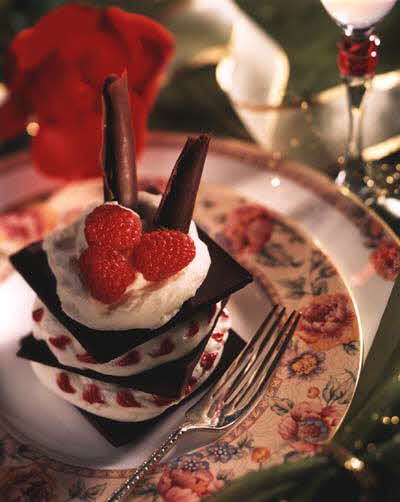 Serves 6 Chocolate Raspberry Napoleon
Approximate preparation time: 40 minutes plus chilling time
A great Valentine's Day recipe!
INGREDIENTS:
CHOCOLATE LAYERS:
• 8 ounces bittersweet or semisweet chocolate, chopped

RASPBERRY MASCARPONE CREAM:
• 1- 8 ounce container mascarpone cheese* or 8 ounce package cream cheese (room temp)
• ¼ cup sugar
• 2 Tablespoons Framboise (or other raspberry liqueur)
• 1 cup chilled heavy whipping cream

RED RASPBERRY PUREE:
• 2 cups whole frozen raspberries (about 8 ounces) thawed
• 2 Tablespoons Framboise (or other raspberry liqueur), may add more to taste
• 3 Tablespoons sugar
• 1 Tablespoon cornstarch

DIRECTIONS:
FOR CHOCOLATE LAYERS: Cover the bottom of a cookie sheet or jelly roll pan with foil, tucking ends under, making sure foil is tight. Mark 15 x 9-inch rectangle on foil. In top of double boiler set over barely simmering water, melt chocolate (do not allow bottom of pan to touch water) stirring until smooth, approximately 5-7 minutes. Pour onto foil and spread quickly and evenly to the same thickness to cover rectangle; a pastry chef's knife works best. Chill in refrigerator until set but not hard, about 7 minutes. With a sharp knife, cut chocolate rectangle lengthwise into three equal strips, each about three inches wide. Cut each strip into six equal pieces, each about two and one-half inches wide. Chill one hour. (Can be made one week ahead. Cover; keep refrigerated).

FOR RASPBERRY MASCARPONE CREAM: Beat mascarpone cheese, sugar and Framboise together in a medium bowl with an electric mixer. Add half the cream and beat until soft peaks form. Add the rest of the cream and beat until thick and stiff. Cover and chill for one hour.

FOR RASPBERRY PUREE: Place thawed raspberries in food processor or blender. Strain through a fine sieve to remove seeds and place in small saucepan. Stir sugar and cornstarch together and add to puree, along with the Framboise. Heat, stirring until thickened and glossy. Refrigerate until ready to use. (Note: if puree is too cold it may be too thick to create decorative hearts—microwave for 30-40 seconds before use).

TO ASSEMBLE NAPOLEONS: Place one chocolate square on each of the six plates. Spread with three tablespoons of the raspberry mascarpone cream mixture. Use a toothpick to dot edges of mascarpone cream with the raspberry puree. Draw the toothpick through the center of each dot to slightly below center, to create a heart shape. Top with another chocolate piece, spread mascarpone over, repeat with raspberry puree dots/hearts. Top with last chocolate piece and finish with a dollop of mascarpone cream and garnish with fresh raspberries and/or puree and shaved chocolate.

May be plated with a pool of additional raspberry puree

* Italian mascarpone cheese is available at Italian markets and many supermarkets.

Oregon Raspberry & Blackberry Commission - www.oregon-berries.com/