See also: Whiskey, Brandy & Liqueurs
SUNTORY YAMAZAKI SINGLE MALT WHISKY
The Distinctive Whisky of Japan
(Jan/2007)
Suntory YAMAZAKI is the distinctive single malt whisky of Japan. With a smooth, subtle, honeyed taste, this superb single malt whisky reflects the unique characteristics of its Japanese heritage.

Handcrafted at the oldest distillery in Japan, Suntory YAMAZAKI is made from the purest natural ingredients distilled through the art of Japanese craftsmanship in perfect harmony with nature. Indeed, Suntory YAMAZAKI is made with the same pure water used in Japan's most esteemed tea ceremonies.

The history of Japanese whisky began in 1923 when Shinjiro Torii, the founder of Suntory and the father of Japanese whisky, built Japan's first malt whisky distillery in the Vale of Yamazaki. Located on the outskirts of Kyoto, the ancient capital of Japan, this proved to be the ideal environment for whisky production.



A good whisky is born of pure water and a climate where cool temperatures and high humidity create an ideal maturation environment. The Vale of Yamazaki is famed for its pure waters, prized by the famous Japanese tea ceremony master Senno Rikyu since ancient times. The Yamazaki distillery, where whisky was crafted from pure malt using copper pot stills, was the first of its kind outside of Scotland.

Today, Suntory YAMAZAKI is the most popular single malt whisky in Japan and is enjoyed by whisky connoisseurs the world over. Suntory YAMAZAKI was ranked the world's ninth bestselling single malt whisky in terms of cases sold in 2002, and is currently exported to some 25 countries, including the United States.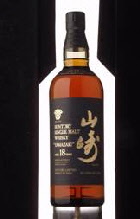 The Suntory YAMAZAKI Whisky-Making Process
The Suntory YAMAZAKI production process begins with the selection of the finest barley according to strict quality standards. The barley germinates on exposure to moisture and air, producing enzymes that will later convert starch into sugars. The grains of malt are then ground into grist and mixed with pure water from the Vale of Yamazaki. This mixture yields a sweet liquid called wort.

Suntory selects the most appropriate yeast from a vast variety and adds the yeast to the wort to begin the fermentation process. This produces an alcoholic liquid called wash, which is distilled twice in copper pots. Only the distinctive middle cut of the second distillation is collected to become whisky.

After the distillation process is complete, the new spirits are aged in oak casks, where the whisky matures to its amber color and smooth taste. Suntory YAMAZAKI Single Malt Whisky is available aged for either 12 or 18 years.

Travelers to Japan can visit the Suntory YAMAZAKI Whisky Museum, which opened in March of 2000 on the grounds of the Yamazaki Distillery. Visitors can taste more than 100 kinds of whisky and view exhibits that explain the history of whisky distilling in Japan and the product's impact on Japanese culture and society.
"Suntory YAMAZAKI 12-year-old is lightly syrupy, honeyed in flavor, perfumy, with a cookie-like dryness in the finish. This whisky seems to have gained in confidence and intensity over the years."
Michael Jackson's Complete Guide to Single Malts (5th edition, 2004)
Recent Awards: Suntory YAMAZAKI 12 Year Old Single Malt Whisky

• Silver Medal, 2006 International Spirits Challenge (ISC)
• Silver Medal, 2005 San Francisco World Spirits Competition
• Gold Medal, 2003 International Spirits Challenge (ISC)
• Gold Medal, 2002 Beverage Testing Institute

Recent Awards: Suntory YAMAZAKI 18 Year Old Single Malt Whisky

• Trophy, 37th International Wine & Spirits Competition (IWSC)
• Double Gold Medal, 2005 San Francisco World Spirits Competition
• Gold Medal, 2005 Beverage Testing Institute