See also: Leinenkugel Fireside Nut Brown & Recipes; Beer & Brewing Articles
Leinenkugel's '1888 Bock' Taps Historic Family Recipe
True Bock Style Beer Features Extensive Lagering and a Strong Head
(December 29, 2008) – The Jacob Leinenkugel Brewing Company, the brand born in Wisconsin's Northwoods 141 years ago to serve thirsty lumberjacks, is introducing a true bock-style beer whose roots date back 120 years. Tapping an original Leinenkugel family recipe, the brewery will produce Leinenkugel's 1888 Bock, a new late winter / early spring seasonal brew with a foam collar thick enough to steady a pencil.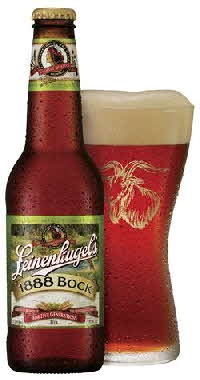 Available January through March, Leinenkugel's 1888 Bock features a robust head which seizes the rich aroma of toasted and caramel malts. The flavor of this full-bodied brew is heavily defined by the Munich malts and the 20 to 25-day cold lagering process which creates a smooth, toasted malt flavor. Leinenkugel's 1888 Bock also features Caramel, Pale and two-row Chocolate malts while Cluster hops add a touch of citrus character.
"We're delighted to tap Leinenkugel's storied brewing history to produce 1888 Bock and continue to invigorate our portfolio," says Jake Leinenkugel, fifth generation brewer and president of the Jacob Leinenkugel Brewing Company, who notes that 1888 Bock is being released on the heels of the new holiday seasonal Fireside Nut Brown. "Our loyal fans have told us they're looking for adventurous new craft beers to enjoy throughout the seasons and new 1888 Bock delivers."

In the spring of 1888, after 21 years of brewing in Chippewa Falls and one of the harshest winters anyone in the Midwest could remember, the then Jacob Leinenkugel Spring Brewery staff realized Leinie fans were primed for the brand's first seasonal brew. So, they produced a hearty bock beer, a style that rose to popularity as a source of sustenance for monks during the Lenten fasting season and can be traced back to14th century Germany.

Brewed in small, high-quality batches at Leinenkugel's brewery in Chippewa Falls, Wis., 1888 Bock is the perfect complement for foods with big flavors such as roasted and game meats as well as strong cheese such as Gruyere, Swiss and aged Cheddar.

Leinenkugel's 1888 Bock contains 5.1 percent alcohol by volume (ABV) and is available where Leinenkugel's is sold in 6 and 12 pack bottles and on draft. 1888 Bock retails for approximately $6.49 to $7.99 a 6-pack. The bitterness is an 18 IBU and the color is a 32 SRM.

About Leinenkugel's
Leinenkugel's, brewed in Chippewa Falls, Wisconsin, is the leading craft brewer in the upper Midwest. Year-round offerings include Leinenkugel's Sunset Wheat, Honey Weiss, Berry Weiss, Leinie's Red, Creamy Dark, Original and Light. In addition to the new 1888 Bock, Leinenkugel's offers three other limited-release seasonal beers including summer favorite Leinenkugel's Summer Shandy, Leinenkugel's Oktoberfest and Fireside Nut Brown. For more information on the rich history of Leinenkugel's, visit www.leinie.com.