See also: North American Wines; French Wines
Circus Wines? Elephant on a Tightrope
New wine brand, Elephant on a Tightrope, offers "French wines for Today"
September 12, 2006
Solange de France LLC, a French-American brand development consultancy, has partnered with several wineries throughout France to launch a new line of French wines. Branded under the name "Elephant on a Tightrope". Marketed as "French Wines for Today", the portfolio offers a selection of wines from regions throughout France under consumer-friendly labeling.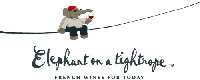 Developed specifically for the North American market, the brand includes a selection of varietals for everyday enjoyment, grouped under a brightly colored labeling which features an elephant savouring a glass of wine while seated comfortably on a tightrope. Wines for more special occasions are grouped under a separate, more refined, "prestige" label carrying the same name.

The concept and unusual brand name was based on elephants' highly developed sensory perceptions: a superior sense of smell, taste, and a deftness of balance, perceptions that are particularly important to wine. "Since today's consumer is confused by traditional French wine labelling, we developed distinct colour coding for the red, white and rosé wines to increase impact on the shelves, as well as make wine selection easier for the consumer" said brand designer, Philippe Maffini.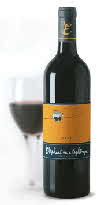 According to a spokesperson for the company, "Branding has become extremely important in today's competitive wine market, but we wanted to take Elephant on a Tightrope one step further and develop a line of wine with stylish branding that would also offer consumers a selection of quality, yet affordable estate-bottled wines from a variety of wine regions. Partnering with several family-run wineries in France has enabled us to develop a wine brand to meet the expectations of today's consumer without compromising standards, since long-term relationship with these wineries assures us of consistent quality from year-to-year ".

Two Elephant on a Tightrope varietals from the Languedoc region, a Chardonnay and Cabernet Sauvignon, will be available in Canada this Fall.
For additional information: www.elephantonatightrope.com