LINGUINI WITH ROASTED GARLIC-WINE SAUCE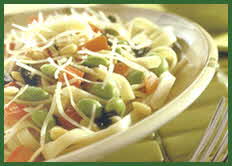 (vegetarian)
Makes 4 servings.

• 1 head Garlic*, skin attached
• 2 tsp Soybean oil
• 8 oz Linguini, fresh or dry
• 2 TBLS Soybean oil
• 3 TBLS Shallots, minced
• ½ cup Dry white wine
• ½ cup Chicken or vegetable broth
• 2 cups (2 medium) Tomatoes, seeded and diced
• 1 cup Edamame (Whole Green Soybeans), shelled and cooked
• ½ cup Pine nuts, toasted
• ¼ cup Basil**, fresh, chopped
• ¼ cup Parmesan, grated

Directions
Preheat oven to 400°F.

Cut pointed top off garlic head, leaving cloves intact, and place on square of aluminum foil. Drizzle 2 teaspoons oil over cloves. Seal foil around garlic and bake at 400°F for 30 to 40 minutes or until cloves are soft; cool. Squeeze paste from cloves, mash and set aside.

Prepare linguini as directed on package; drain and set aside.

Heat 2 tablespoons oil in medium saucepan. Add shallots and garlic paste. Sauté until shallots are translucent, stirring occasionally.

Add wine and chicken broth, bring to boil and simmer until reduced in half.

Add tomatoes and edamame. Cook 1 minute until warmed, stirring gently. Stir-in pine nuts and basil. Remove from heat; add salt and pepper to taste. Spoon over linguini and sprinkle with Parmesan.
* May substitute ¼ teaspoon garlic powder for the clove of garlic, if desired. Add garlic powder with the chicken broth.

** May substitute 1 tablespoon dried basil for fresh basil, if desired.

Nutritional Analysis per Serving: 380 Calories (50% Calories from Fat), 14g Protein, 29g Carbohydrate, 6g Fiber, 22g Fat, less than 5 mg Cholesterol, 250mg Sodium.
Photo and recipe courtesy of the United Soybean Board
vegetarian recipes