LINGUINE WITH CLAMS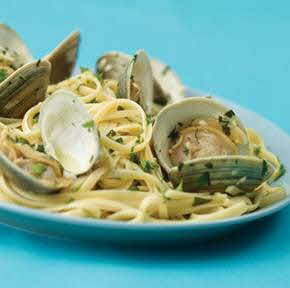 Serves 4
Ingredients:
• 2 dozen manila or littleneck clams, scrubbed
• 1/2 cup dry white wine
• 1/4 cup extra virgin olive oil
• 1 large garlic clove, minced
• 1/4 teaspoon crushed red pepper flakes
• 1/4 cup chopped fresh flat leaf parsley
• 1 pound linguine or spaghetti, cooked

Directions:
• Put clams and wine in a large pot. Cover and cook over high heat for about 5 minutes until clams open. Transfer opened clams to a bowl using a slotted spoon, leaving broth in the pot. Discard any unopened clams.

• Strain clam broth by pouring it through a fine-mesh sieve into a small bowl. Set broth aside.

• Put olive oil, garlic and pepper flakes in same pot and cook over medium heat, stirring occasionally, just until garlic turns color.

• Add clams, broth and parsley and stir well to combine. Heat just to simmering. To serve, toss clams with cooked pasta.

* Recipe and photo courtesy of Maria Zoitas, creator of 'Maria's Homemade' line of prepared food sold exclusively at Westside Market NYC www.wmarketnyc.com/