CHICKEN AND SUN DRIED TOMATO PASTA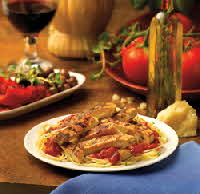 Difficulty: Easy
Prep Time: 15 minutes
Cook Time: 5 minutes
Yield: 4 servings

Ingredients
• 8 oz. uncooked linguine
• 1 tablespoon olive oil
• 2 (6.0 oz.) packages Tyson Grilled Chicken Breast Strips
• 2 cloves garlic, minced
• 1/2 cup bottled roasted red pepper, cut into bit-size pieces
• 1/3 cup thin strips oil-packed sun-dried tomatoes
• 1/4 teaspoon crushed red pepper flakes
• 3 tablespoons thinned strips fresh basil
• 2 medium green onion, thinly sliced
• 2 tablespoons shredded Parmesan cheese

Cooking Instructions
Prepare linguine in nonstick Dutch oven according to package directions: drain and set aside.

Meanwhile, heat olive oil in large nonstick skillet over medium heat. Add chicken and garlic: cook and stir 2 minutes longer. Stir in 3 tablespoons water or chicken broth.

Place chicken, hot pasta, and remaining ingredients, except for Parmesan cheese, in Dutch oven used to cook pasta. Over low heat, toss to mix. Add Parmesan cheese; toss to mix. Serve immediately.
Nutrition Facts
Calories: 419
Total Fat: 9g
Protein: 32g
Carbohydrate: 50g
Cholesterol: 78mg
Sodium: 869mg