LEMON PEPPER PASTA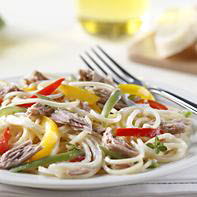 Prep Time: 5 minutes
Cook Time: 12 minutes
Serves: 4

Ingredients:
• 2 (4.5 oz.) pouches StarKist Tuna Creations®, Zesty Lemon Pepper
• 8 oz. long,thin pasta, such as fettuccini, linguine or spaghetti
• 1/2 tsp. minced garlic
• 2 Tbsp. olive oil
• 1/2 red bell pepper, sliced
• 1/2 yellow bell pepper, sliced
• 1 cup frozen French-style green beans, thawed
• 3 oz. Goat Cheese, crumbled
• 1 cup white wine
• Dash thyme

Directions:
Cook pasta according to package directions. Drain when al dente. (Approximately 10 to 15 minutes.)

Meanwhile, in a medium skillet, heat oil over medium-high heat.
Add garlic and peppers and sauté for 1 -2 minutes until crisp. Add green beans and sauté another 1 – 2 minutes.

Meanwhile, in a small skillet, whisk white wine and goat cheese over medium-low heat. Stir quickly to melt goat cheese. Add Tuna Creations®, thyme and goat cheese sauce to vegetables; heat for 1 to 2 minutes or until hot.

Serve over cooked pasta.

Recipe courtesy of: StarKist www.starkist.com