IRISH CREAM SWIRL BROWNIES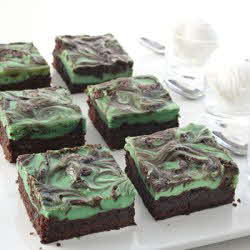 This favorite takes on a seasonal twist with a splash of Irish cream liqueur and Green Food Color. The decadent brownie and swirl topping will leave everyone tapping their feet to a Celtic tune.
Prep Time: 20 minutes
Cook Time: 35 minutes
Makes 16 servings.

INGREDIENTS
• 1 package (18 to 20 ounces) fudge brownie mix
• 1 teaspoon McCormick Pure Vanilla Extract
• 1 package (8 ounces) cream cheese, softened
• 1/4 cup sugar
• 2 tablespoons flour
• 1/4 cup Irish cream liqueur
• 1 egg
• 1/4 teaspoon McCormick Green Food Color

DIRECTIONS
1. Prepare brownie mix as directed on package, adding vanilla. Reserve 1 cup batter. Spread remaining batter in greased 9-inch square baking pan.

2. Beat cream cheese, flour and sugar in medium bowl with electric mixer on medium speed until smooth. Add Irish cream liqueur, egg and food color; beat until well blended. Pour over brownie layer in pan. Drop reserved 1 cup batter by spoonfuls over cream cheese layer. Cut through batter with knife several times for marble effect.

3. Bake as directed on package for 9-inch square baking pan. Cool in pan on wire rack. Cut into squares. Serve with a small scoop of vanilla ice cream, if desired.
Test Kitchen Tips:
• For easy clean-up, line pan with foil with ends of foil extending over sides of pan. Use foil handles to remove brownie from pan. Place on cutting board and cut into squares.
• If desired, 1 teaspoon McCormick Pure Vanilla Extract may be used in place of the Irish cream liqueur. Omit flour.
NUTRITION INFORMATION
Per Serving: 292 calories, Fat 16g, Carbohydrates 34g, Cholesterol 53mg, Sodium 179mg, Fiber 1g, Protein 3g
Recipe courtesy of McCormick & Co.