EASY GREEN VELVET CUPCAKES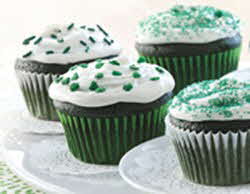 A green twist on classic red velvet, these cupcakes take basic cake mix to delicious new heights with the addition of Pure Vanilla Extract, Green Food Color, sour cream and cocoa powder.
Prep Time: 20 minutes
Cook Time: 20 minutes
Makes 24 servings.
INGREDIENTS
• 1 package (18¼ ounces) German chocolate cake mix with pudding
• 1 cup sour cream
• 1/2 cup water
• 1/4 cup unsweetened cocoa powder
• 1/4 cup vegetable oil
• 1 bottle (1 ounce) McCormick Green Food Color
• 3 eggs
• 2 teaspoons McCormick Pure Vanilla Extract
• 1 container (16 ounces) cream cheese frosting
• Green sprinkles (optional)

DIRECTIONS
1. Preheat oven to 350°F. Beat cake mix, sour cream, water, cocoa powder, oil, food color, eggs and vanilla in large bowl with electric mixer on low speed just until moistened, scraping sides of bowl frequently. Beat on medium speed 2 minutes.

2. Pour batter into 24 paper-lined muffin cups, filling each cup 2/3 full.

3. Bake 20 minutes or until toothpick inserted in center comes out clean. Cool in pan 10 minutes. Remove from pans; cool completely on wire rack. Frost with cream cheese frosting. Decorate with sprinkles, if desired.
TO PREPARE FROSTING:
• Vanilla Cream Cheese Frosting (makes 2½ cups):
Beat 1 package (8 ounces) cream cheese, softened, 1/4 cup (1/2 stick) butter, softened, 2 tablespoons sour cream and 2 teaspoons McCormick Pure Vanilla Extract in large bowl until light and fluffy. Gradually beat in 1 box (16 ounces) confectioners' sugar until smooth.

• Minty Green Cream Cheese Frosting:
Stir 1/2 teaspoon McCormick Pure Peppermint Extract and 1/2 teaspoon McCormick Green Food Color into canned cream cheese frosting or Vanilla Cream Cheese Frosting.

NUTRITION INFORMATION
Per Serving: 213 calories, Fat 9g, Carbohydrates 31g, Cholesterol 30mg, Sodium 193mg, Fiber 1g, Protein 2g
Recipe courtesy of McCormick & Co.