GREEN WITH ENVY CHEESECAKE BARS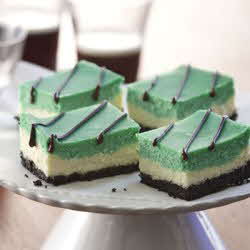 These cheesecake bars — with contrasting layers of green, white and chocolaty brown — get a hint of sophistication with invigorating Pure Peppermint Extract.
Prep Time: 20 minutes
Cook Time: 30 minutes
Refrigerate: 4 hours
Makes 24 servings.
INGREDIENTS
• 1½ cups chocolate wafer cookie crumbs (about 30 cookies)
• 1/3 cup butter, melted
• 3 packages (8 ounces each) cream cheese, softened
• 1 cup sugar
• 1/2 cup sour cream
• 1 teaspoon McCormick Pure Peppermint Extract
• 1/2 teaspoon McCormick Green Food Color
• 3 eggs
• 2 ounces semi-sweet baking chocolate, melted

DIRECTIONS
1. Preheat oven to 350°F. Mix cookie crumbs and butter. Press firmly onto bottom of foil-lined 9-inch square baking pan. Refrigerate until ready to use.

2. Beat cream cheese and sugar in large bowl with electric mixer on medium speed until well blended. Add sour cream and peppermint extract; mix well. Add eggs, 1 at a time, beating on low speed after each addition just until blended. Pour 1/2 of the batter over crust. Tint remaining batter green with food color. Pour over batter in pan.

3. Bake 25 to 30 minutes or until center is almost set. Cool completely on wire rack.

4. Refrigerate 4 hours or overnight. Lift out of pan onto cutting board. Cut into bars. Drizzle bars with melted chocolate. Store leftover bars in refrigerator.

NUTRITION INFORMATION
Per Serving: 215 calories, Fat 15g, Carbohydrates 16g, Cholesterol 69mg, Sodium 184mg, Fiber 0g, Protein 4g
Recipe courtesy of McCormick & Co.