CLASSIC GUACAMOLE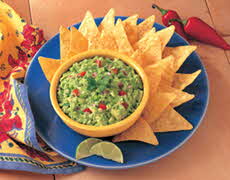 Serves: 8
Ingredients
• 4 ripe, fresh Hass avocados, peeled and pitted *
• 2 lemons, juiced
• 2 tsp. minced garlic
• 1 tomato, diced
• ¼ cup cilantro, chopped
• ¼ cup diced red onion
• ¼ tsp. ground cumin
• 5 Jalapeño chiles or Serrano chiles, minced;
• 3 of the chiles seeded
• Salt and chile powder, to taste

Instructions
In a large bowl, coarsely mash avocados and combine with lemon juice.

Add the remaining ingredients to the avocado mixture, stirring until combined.

Refrigerate for 30 minutes and serve with tortilla chips.

*Large avocados are recommended for these recipes. A large avocado averages about 8 ounces. If using smaller or larger size avocados adjust the quantity accordingly.

Recipe courtesy of the Hass Avocado Board
www.avocadocentral.com