SALSA GUACAMOLE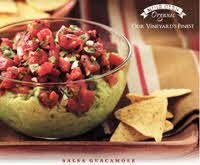 Prep Time: 20 minutes
Start to finish: 20 minutes
12 Servings (¼ cup each)

SALSA
• 1 can (14.5 oz) Muir Glen® Organic Fire Roasted diced tomatoes or Halley Thirty-One Fifty-Five petite diced tomatoes, well drained
• ¼ cup chopped onion
• 2 tablespoons chopped fresh cilantro
• ¼ teaspoon coarse salt (kosher or sea salt)
• 1 clove garlic, finely chopped
• 1 small fresh jalapeno chile, seeded, finely chopped

GUACAMOLE
• 3 ripe large avocados (about 1½ lb) pitted, peeled
• 2 tablespoons fresh lime juice
• ½ teaspoon coarse salt (kosher or sea salt)
• ½ teaspoon red pepper sauce
• 1 clove garlic, finely chopped

Directions
1. In medium bowl, stir together salsa ingredients.

2. In another medium bowl, place avocados; coarsely mash.
Stir in remaining guacamole ingredients.
Spoon guacamole into shallow serving bowl; top with salsa.

3. Serve with tortilla chips as desired.

Nutrition
1 Serving: Calories 80 (Calories from Fat 60); Total Fat 6g (Saturated Fat 1g. Trans Fat 0g); Cholesterol 0mg: Sodium 190mg; Total Carbohydrate 6g (Dietary Fiber 3g, Sugars 1g); Protein 1g
% Daily Value: Vitamin A 2%; Vitamin C 15%; Calcium 0%; Iron 4%
Exchanges: ½ Other Carbohydrate, 1 Fat
Carbohydrate Choices: ½

2006 © and ®/™ of Small Planet Foods, Inc.