GUACAMOLE AUTENTICO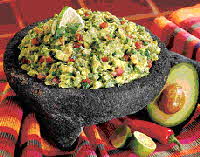 Makes 6 servings
Ingredients
• 4 ripe avocados, peeled and seeded
• 1 tsp. ground cumin
• 1 ripe, medium Roma tomato, seeded and diced
• 1/2 cup minced sweet white onion
• 2 Serrano chiles, seeded and minced
• 1/4 cup chopped cilantro leaves
• 4 Tbsp. fresh lime juice
• Hot pepper sauce, sea salt, and white pepper, to taste

Instructions
Cut avocado in large chunks and mash coarsely in large bowl with a fork.

Add remaining ingredients and blend gently – leaving some small chunks is fine.

Taste and adjust seasoning with more pepper sauce, salt and pepper if desired.

The Hass Avocado Board (HAB) was established in 2002 after approval by producers and importers of Hass avocados in a national referendum. A 12-member Board administers the program. Over 20,000 producers and 100 importers are involved in the HAB, which covers fresh domestic and imported Hass avocados sold in the U.S. market.