See also Articles: Oysters; The World is Your Oyster
OYSTERS
It is believed that Chesapeake Bay oysters have been gathered by humans for over 6,000 years.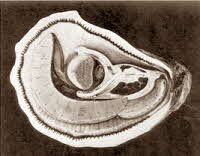 The average 3 inch oyster filters about 50 gallons of water a day.

From 1880 to 1920, New York was the undisputed oyster capital of the United States.
How to Eat A Closed Oyster: A muricid snail drills through the oyster shell, insert its proboscis and uses the teeth at the tip to rasp up the oyster's flesh.
The Eastern Oyster (Crassostrea virginica) is the official state Shellfish of Connecticut.

Mississippi designated the Oyster Shell (Crassostrea virginica) as its Official State Shell in 1974.

The Oyster Shell was designated as the Official Shell of Virginia in 1974.
In the mid to late 1800's conflicts between oystermen who used different types of gear and between those in Maryland and Virginia, escalated to deadly levels in a time known as the Oyster Wars. Maryland formed an Oyster Navy in 1868 to police the waters, enforce regulations and deter violence.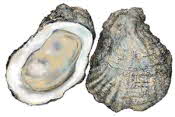 The city of Crisfield, Maryland is built on a foundation of oyster shells.

Americans eat more oysters than anyone else in the world.
George Pauling (19th century South African railway builder) whose favorite parlor trick was to pick up a horse and carry it around his billiards table, was alleged to have shared with two friends a breakfast of 1000 oysters and eight bottles of champagne.
Pax Britannica, vol 2, The Climax of Empire, James Morris; Faber & Faber 1968.
Chesapeake Bay oyster production in the late 19th century was over 111 million pounds; in 1980 it was 22 million pounds; in 1990 it was less than 4 million pounds.
TO FATTEN OYSTERS
"Mix one pint of salt with thirty pints of water. Put the oysters in a tub that will not leak, with their mouths upwards and feed them with the above, by dipping in a broom and frequently passing over their mouths. It is said that they will fatten still more by mixing fine meal with the water."
From Housekeeping in Old Virginia, 1887.
The world's only oyster museum is on Chincoteague Island, Virginia.

The record for shucking oysters is held by Frenchman Marcel Lesoille, who shucked 2,064 oysters in one hour.

Sonya Thomas ate 36 dozen oysters in 10 minutes for a world record.

FREE Magazines
and other Publications
An extensive selection of free magazines and other publications
FOOD TRIVIA and FOOD FACTS
Please feel free to link to any pages of FoodReference.com from your website.
For permission to use any of this content please E-mail: [email protected]
All contents are copyright © 1990 - 2023 James T. Ehler and www.FoodReference.com unless otherwise noted.
All rights reserved. You may copy and use portions of this website for non-commercial, personal use only.
Any other use of these materials without prior written authorization is not very nice and violates the copyright.
Please take the time to request permission.


CULINARY SCHOOLS
& COOKING CLASSES
From Amateur & Basic Cooking Classes to Professional Chef Training & Degrees
FoodReference.com (since 1999)
FOOD TRIVIA and FOOD FACTS SECTION