NEW YORK BOLD ONIONS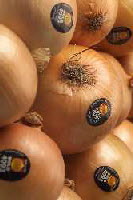 "Onions with Attitude"
New York Bold onions, grown by a consortium of 14 farmers in Oswego County, N.Y. have 50 percent more sugar content than conventional onions and explode with flavor in the pan, making them the ideal cooking onion enhancing any dish.

New York Bolds are among the most pungent onions available and contain the highest sugar content of any onion type -- more than 9 percent--compared to less than 6 percent for the conventional summer onion from Georgia. They boast a lower water content, so they caramelize faster and better than most onions and the flavor doesn't mush and melt away.

They're hardy as heck and store for months at a time. The flavor stays bold too. New York Bold onions are grown in the rich soils of Upstate New York. The soils along Lake Ontario are some of the most fertile in the world, insuring consistent quality and performance with every bite.

And they're good for you too. If you're eating healthy go crazy, because New York Bolds are loaded with antioxidants. That means a healthy heart, and a bunch of other benefits. Researchers at the National Cancer Institute report in a recent study that a diet with lots of onions rich in antioxidants like New York Bolds reduces risk of prostate cancer by about half.

Please feel free to link to any pages of FoodReference.com from your website.
For permission to use any of this content please E-mail: [email protected]
All contents are copyright © 1990 - 2023 James T. Ehler and www.FoodReference.com unless otherwise noted.
All rights reserved. You may copy and use portions of this website for non-commercial, personal use only.
Any other use of these materials without prior written authorization is not very nice and violates the copyright.
Please take the time to request permission.


FOOD TRIVIA and FOOD FACTS
FoodReference.com (since 1999)
FOOD TRIVIA and FOOD FACTS SECTION