See also: Ostrich Eggs; Ostrich Article; Ostrich Recipes
OSTRICH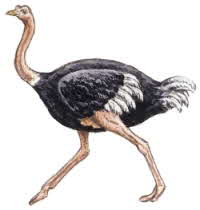 Ostrich brain was considered to be a delicacy at the time of Nero.

Ostrich is a red meat that has a mild beef-like flavor and shrinks very little when cooked. It is very low in fat and cholesterol.

Heliogabalus was a Roman emperor (204-222 AD) who was known for his culinary excesses. For one banquet he had 600 ostrich brains prepared.

FOOD TRIVIA and FOOD FACTS
Please feel free to link to any pages of FoodReference.com from your website.
For permission to use any of this content please E-mail: [email protected]
All contents are copyright © 1990 - 2023 James T. Ehler and www.FoodReference.com unless otherwise noted.
All rights reserved. You may copy and use portions of this website for non-commercial, personal use only.
Any other use of these materials without prior written authorization is not very nice and violates the copyright.
Please take the time to request permission.


FoodReference.com (since 1999)
FOOD TRIVIA and FOOD FACTS SECTION