See also: Honey & Honeybees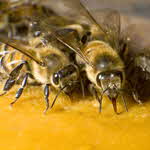 BEE FACTS & TRIVIA
There are more than 16,000 species of bees.

The 'queen' was known as the 'king' until the 1660s when a Dutch scientist discovered that they had ovaries.

Honey bees have four wings.
It takes more than 1.2 million bee hives to pollinate California's almond crop (over 550,000 acres).

Honeybees are often used to pollinate cranberry crops, and are in fact more valuable in the performance of this task than they are in the production of honey.
Pacific Coast Cranberry Web www.cranberryfarmers.org

The terms 'bee's knees,' 'the cat's pajamas,' and 'Yes, we have no bananas' were all coined by American cartoonist Tad Dorgan.

Utah is known as the beehive state. The Beehive was designated as the Official State Emblem of Utah in 1959.
The average worker honey bee makes about 1/12 of a teaspoon of honey in her lifetime. Honey bees fly about 15 miles an hour, and a hive of bees must fly about 55,000 miles and tap 2 million flowers to make one pound of honey.

European settlers introduced European honey bees to New England in about 1638. North American natives called these honey bees the "white man's flies." Honey was used to prepare food and beverages, to make cement, to preserve fruits, to concoct furniture paste-polish and varnish and for medicinal purposes.
The U.S. Department of Agriculture has estimated that there are between 139,600 and 212,000 beekeepers in the United States.

The vast majority (95%) are hobbyists with less than 25 hives. In addition, about 4% are part-timers who keep from 25 to 299 hives. Together, hobbyists and part-timers account for about 50 percent of bee colonies and about 40 percent of honey produced.

The number of U.S. bee colonies producing honey in 2003 was 2.59 million (based on beekeepers who manage five or more colonies).
National Honey Board www.honey.com

Please feel free to link to any pages of FoodReference.com from your website.
For permission to use any of this content please E-mail: [email protected]
All contents are copyright © 1990 - 2023 James T. Ehler and www.FoodReference.com unless otherwise noted.
All rights reserved. You may copy and use portions of this website for non-commercial, personal use only.
Any other use of these materials without prior written authorization is not very nice and violates the copyright.
Please take the time to request permission.
FOOD TRIVIA and FOOD FACTS
CULINARY SCHOOLS
& COOKING CLASSES
From Amateur & Basic Cooking Classes to Professional Chef Training & Degrees
FoodReference.com (since 1999)
FOOD TRIVIA and FOOD FACTS SECTION