See also articles: Basil; Basil, Saint or Sinner; Egyptian Basil
BASIL TRIVIA & FACTS
Common Basil (Ocimum basilicum) is an aromatic herb with light green leaves. There are several other basil species and numerous horticultural varieties including: purple basil, opal basil, lime basil, lemon basil, anise basil, cinnamon basil and clove basil.

Although Basil is cultivated worldwide, Egypt is the principal source followed by the United States. (2007)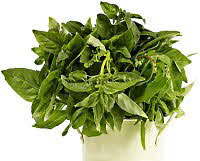 Basil is Greek for 'royal' or 'kingly'. Ancient Greek and Roman doctors believed that basil would grow only if its cultivators sowed the seeds while screaming wild curses and shouting unintelligibly.

The Greeks believed that only the sovereign himself, armed with his golden sickle, should be allowed to cut the basil.

The ancients had many superstitions connected with Basil, one of which was that it had the power of propagating scorpions. It was generally believed that a basil leaf left under a pot would in time turn into a scorpion. Superstition went so far as to affirm that even smelling the plant might bring a scorpion in the brain.

It was believed that Salome hid John the Baptist's head in a pot of basil to cover up the odor of decomposition.

Bocaccio tells the morbid story of love and composting about a woman whose tears water a pot of basil in which she has buried the head of her murdered lover. Keats 1820 poem "Isabella or the Pot of Basil" revisits this theme.

In Italy, basil has always been a token of love.

In Romania, when a boy accepts a sprig of basil from his girl, he is engaged.

In India the Basil plant is sacred to both Krishna and Vishnu, and is cherished in every Hindu house. Every good Hindu goes to his rest with a Basil leaf on his breast. This is his passport to Paradise.

Please feel free to link to any pages of FoodReference.com from your website.
For permission to use any of this content please E-mail: [email protected]
All contents are copyright © 1990 - 2023 James T. Ehler and www.FoodReference.com unless otherwise noted.
All rights reserved. You may copy and use portions of this website for non-commercial, personal use only.
Any other use of these materials without prior written authorization is not very nice and violates the copyright.
Please take the time to request permission.
FOOD TRIVIA and FOOD FACTS
CULINARY SCHOOLS
& COOKING CLASSES
From Amateur & Basic Cooking Classes to Professional Chef Training & Degrees
FoodReference.com (since 1999)
FOOD TRIVIA and FOOD FACTS SECTION