See also: The Capitol Christmas Tree; Christmas FOOD Trivia; Christmas Food Customs; Christmas Advertising; Other Christmas Trivia; Eggnog Riot; Holiday Recipes; Christmas Quotes; Holiday Articles
Christmas Tree Facts & Trivia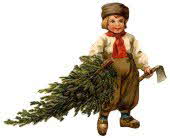 The oldest record of a decorated Christmas tree came from a 1605 diary found in Strasburg, France (Germany in 1605). The tree was decorated with paper roses, apples and candies.
Thomas Edison's assistant, Edward Johnson, came up with the idea of electric lights for Christmas trees in 1882. Christmas tree lights were first mass-produced in 1890.

The first aluminum Christmas Tree was introduced in 1959 by the Aluminum Specialty Company of Manitowoc, Wisconsin.
The most popular Christmas trees are: Scotch pine, Douglas fir, noble fir, Fraser fir, balsam fir, Virginia pine and white pine.
In 1856 Franklin Pierce, the 14th President of the United States, was the first President to place a Christmas tree in the White House.
President Coolidge started the National Christmas Tree Lighting Ceremony on the White House lawn in 1923.
98 percent of all Christmas trees are grown on farms, while only 2% are cut from the wild. To ensure enough trees for harvest, growers plant one to three seedlings for every tree harvested. There are more than 15,000 Christmas tree farms in the U.S. (2013)
24.5 million farm-grown Christmas trees and 10.9 million artificial trees were purchased in the United States in 2012.
Christmas trees are grown and harvested in all 50 states.
FREE Magazines
and other Publications
An extensive selection of free magazines and other publications
FOOD TRIVIA and FOOD FACTS
Please feel free to link to any pages of FoodReference.com from your website.
For permission to use any of this content please E-mail: [email protected]
All contents are copyright © 1990 - 2023 James T. Ehler and www.FoodReference.com unless otherwise noted.
All rights reserved. You may copy and use portions of this website for non-commercial, personal use only.
Any other use of these materials without prior written authorization is not very nice and violates the copyright.
Please take the time to request permission.
CULINARY SCHOOLS
& COOKING CLASSES
From Amateur & Basic Cooking Classes to Professional Chef Training & Degrees
FoodReference.com (since 1999)
FOOD TRIVIA and FOOD FACTS SECTION