See also: Christmas Advertising; Christmas Food Trivia; Other Christmas Trivia; Christmas Tree Trivia; Eggnog Riot;
Holiday Recipes; Christmas Quotes; Holiday Articles
CHRISTMAS FOOD CUSTOMS AROUND THE WORLD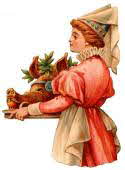 Argentina: After attending Midnight mass on Christmas Eve, a traditional meal would include roast pig, turkey and pan dulce (a sweet Christmas bread). Christmas occurs during the summertime and many families barbecue Christmas dinner or spend the day at the beach.

Australia: On Christmas Eve snacks are left out for Father Christmas (cookies and milk, or maybe some beer?) and water for the kangaroos that pull his sleigh while in Australian airspace.

Canada: In Newfoundland on St. Stephen's Day (December 26) Catholic families would have a dish made with dried, salted cod named 'Christmas Fish.'

Germany: According to German tradition, partaking in a roast of pork dinner on Christmas Eve will prevent evil and promote prosperity in the New Year.
Germany: The Germans tend to have a game feast on Christmas day, usually wild boar or venison.

Ireland: The traditional Irish Christmas Eve dinner is the 'Black Fast' of boiled salt cod and potatoes.

Ireland: In Ireland there are 3 special puddings made for the holidays; one for Christmas, one for New Year's and another for Twelfth Night.

Ireland: Turkey with whiskey glaze - whiskey and honey together with a splash of orange will give an impressive and great tasting twist to the traditional bird.

Italy: Tortellini is a speciality of the Bolognese Christmas dinner (filled with turkey, ham, and sausage forcemeat).
Jamaica: Christmas dinner usually consists of rice, gungo peas, chicken, ox tail and curried goat.

Mexico: In Oaxaca, Mexico, Christmas Eve is also the Night of the Radishes, when large radishes are cut into animal shapes.

Netherlands: The Dutch eat chicken stuffed with sauerkraut at Christmas to mark the end the year and celebrate the beginning of the New Year. The reason for chicken? Because the animal scratches the ground, it symbolizes scratching the earth over the old year.

Norway: Julekaka, Christmas Bread, is a favorite in Norway. It is a sweet yeast raised bread flavored with cardamom, citron and raisins.
Norway: The big festive feast takes place on Christmas Eve. Most people around the coastal regions eat fish - concoctions of cod and haddock and a variety called lutefisk. Inland they go for pork chops, specially prepared sausages and occasionally lamb.

Poland: The traditional Christmas Eve supper consists of 12 non-meat dishes, representing the months of the year and featuring fish such as pike, herring and carp. Other typical Polish dishes are fish soup, sauerkraut with wild mushrooms or peas and Polish dumplings with various fillings.

Scotland: Rich tatties and neeps - a traditional dish made with mashed potatoes, Swede, carrots, onion and butter, garnished with chives and black pepper.
Sweden: Hiding an almond inside rice pudding is a Christmas custom in Sweden. Whoever gets it has good luck for the new year.

United Kingdom: The majority of families (90%) around the UK consider turkey a Christmas tradition. According to the British Turkey Information Service, UK residents consumed 10 million turkeys in 2000 for Christmas, along with 25 million Christmas puddings, 250 million pints of beer and 35 million bottles of wine.

Wales: Leek and onion sauce to accompany the turkey. Leeks, onion, cloves, breadcrumbs, milk, nutmeg and bay leaves blended to create a thick and creamy alternative to ordinary bread sauce.
Note: These fun Christmas facts and trivia are about the secular aspects of this day, and are not in any way intended to trivialize this important Christian Holy Day.

FREE Magazines
and other Publications
An extensive selection of free magazines and other publications
FOOD TRIVIA and FOOD FACTS
Please feel free to link to any pages of FoodReference.com from your website.
For permission to use any of this content please E-mail: [email protected]
All contents are copyright © 1990 - 2020 James T. Ehler and www.FoodReference.com unless otherwise noted.
All rights reserved. You may copy and use portions of this website for non-commercial, personal use only.
Any other use of these materials without prior written authorization is not very nice and violates the copyright.
Please take the time to request permission.


CULINARY SCHOOLS
& COOKING CLASSES
From Amateur & Basic Cooking Classes to Professional Chef Training & Degrees
FoodReference.com (since 1999)
FOOD TRIVIA and FOOD FACTS SECTION