EUROPEAN SALAD WITH APPLES, BLUE CHEESE AND CANDIED PISTACHIOS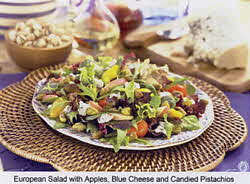 Makes 4 to 6 salads
Ingredients
Dressing
• 1/3 cup Fresh squeezed orange juice
• 3 tablespoons Extra virgin olive oil
• 2 tablespoons Balsamic vinegar
• 1 teaspoon Dijon mustard
• 1 teaspoon Fresh garlic, minced
• Salt and pepper to taste
Salad
• 1 cup Sunkist® Pistachio Kernels, candied (see recipe below)
• 8 cups European salad greens
• 1/2 cup each Yellow and red tear drop tomatoes
• 1 Large Fuji or Gala apple, cored and thinly sliced
• 1/3 cup Red onion, thinly sliced
• 1/2 cup Blue cheese, crumbled

Directions
In large bowl, toss half the candied pistachios with the salad greens, tomatoes, apples and onion.

Arrange onto salad plates; sprinkle with blue cheese and remaining candied pistachios.

Whisk together all dressing ingredients and drizzle desired amount over salad.
CANDIED PISTACHIOS
Preheat oven to 375 degrees F.
In a small bowl, whisk together one egg white and 1/4 cup sugar. Fold in 1 cup whole Sunkist Pistachio Kernels.

Spread pistachios in a single layer on lightly greased baking sheet.

Bake 15 minutes, stirring halfway through baking time or until sugar looks bubbly. Loosen pistachios and let cool for 10 minutes. Store in airtight container until ready to use.

recipe courtesy of pistachiohealth.com