VIDALIA ONION TART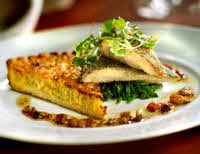 Makes one 12" tart, 12 servings
Ingredients
• 5 cups diced Vidalia Onions (small dice)
• 2 tablespoons olive oil
• 1 teaspoon kosher salt
• Freshly ground black pepper to taste
• 1 cup heavy cream
• 1 egg
• 1 egg yolk
• 1 teaspoon finely chopped flat-leaf parsley
• 1 teaspoon finely chopped chives
• 1 tart shell, partially baked (recipe follows)

Instructions
Cook the Vidalia Onions in the olive oil over medium heat until tender.
Keep covered to seal in flavor and prevent Vidalia Onions from browning.
Season with salt and pepper.

Add the heavy cream and simmer for 2-3 minutes. Adjust seasoning, if necessary.
Allow to cool slightly.

Whisk the egg and egg yolk together and incorporate into the Vidalia Onion mixture.

Finish with the chopped parsley and chives.

Pour mixture into the partially baked tart shell and bake at 325°F for about 20 minutes or until a toothpick comes out clean.

Tart Dough
• 1/2 cup, plus 2 tablespoons butter
• 1 teaspoon sugar
• 1 teaspoon kosher salt
• 1 egg
• 1 egg yolk
• 1 cup all-purpose flour
In a food processor use paddle attachment and cream the first three ingredients for 10 minutes on low speed.

Add the egg and yolk to the butter and process until well blended.
Add the flour and mix on medium speed until incorporated.
Allow the dough to rest for 30 minutes then roll out to 1/8 inch. Prick with a fork and press into a 12" fluted tart ring.
Line with a large coffee filter or parchment paper and weight the dough with beans to eliminate any rising that may occur.

Bake at 325°F until light golden brown, about 10-14 minutes.
Allow the shell to cool completely before adding the filling.

Nutrition Information
Per serving: 260 Calories
21g Fat (73% calories from fat)
4g Protein
16g Carbohydrate
120mg Cholesterol
400mg Sodium

Contributed by Celina Tio, Executive Chef at The American Restaurant in Kansas City, Missouri.
Copyright © 2006 The Vidalia Onion Committee, used with permission