New York Bold Onions: Creamy Baked Onions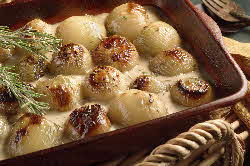 Add some attitude to your holiday meals with New York Bold—the "Onion with Attitude."
Ultra-pungent New York Bold onions have 50 percent higher sugar content than wimpy conventional onions, enhancing caramelization.
The onions are available in 2lb. and 3lb. bags in New York State at Price Chopper Stores, Tops Friendly Markets, Whole Foods Markets, Peter's Stores in Syracuse and Ontario Orchards in Oswego, N.Y. In Pennsylvania, look for New York Bold Onions at Clemens Family Markets and Giant Food Stores. Also look for new Baby Bolds, a smaller version of the onion but with just as much swagger.
And here's the kicker: Yellow onions like New York Bold have been found to fight colon and liver cancer, according to a new study from Cornell University.
Makes 6 servings
Ingredients
· 18-24 Baby Bold Onions, peeled
· One 14½-ounce can chicken broth
· Three tablespoons good quality olive oil
· Salt and pepper
· Two teaspoons chopped fresh rosemary
· Two tablespoons flour
· One half cup heavy cream
· Freshly ground nutmeg (optional)

Directions
Preheat oven to 425 degrees. Set onions in a baking dish so they fit snugly. Pour broth over onions. Drizzle with olive oil and sprinkle with salt, pepper and rosemary.

Bake, basting often, about 1 hour or until onions are soft when pierced with the tip of a knife.

Stir the flour into the cream until smooth and pour over onions. Grate fresh nutmeg on top. Return to oven and bake until pan juices are thickened slightly and tops of onions are browned, 20 to 30 minutes more.

About NewYorkBold, LLC
New York Bold LLC is a consortium of 14 muck-soil onion growers in Upstate, New York. and is one of the first branded onions in the country. The company incorporates the tag line "Onions with Attitude" into all marketing efforts.
On the web at www.newyorkbold.com.