PAULA DEEN'S SATURDAY NIGHT VIDALIA ONIONS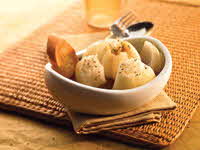 Serves one onion per person
Ingredients
• 1 large Vidalia Onion per person
• 1 tablespoon butter per Vidalia Onion
• 1 beef bouillon cube per Vidalia Onion
• Pepper to taste

Instructions
Prepare a fire in a charcoal grill. Trim a slice from the top of each Vidalia Onion, and peel the Vidalia Onion without cutting off the root end. With a potato peeler, cut a small cone-shaped section from the center of the Vidalia Onion. Cut the Vidalia Onion into quarters from the top down, stopping within a half inch of the root end. Place a bouillon cube in the center, slip slivers of butter in between the sections, and sprinkle with pepper.

Wrap each Vidalia Onion in a double thickness of heavy-duty foil. Place the Vidalia Onions directly onto the hot coals and cook for 45 minutes, turning every so often. Or, bake the foil-wrapped Vidalia Onions in a 350°F oven for about 45 minutes.

Serve in individual bowls because the Vidalia Onions produce a lot of broth, which tastes like French onion soup.

Nutrition Information
Per serving: 250 Calories
12g Fat (44% calories from fat)
3g Protein
35g Carbohydrate
30mg Cholesterol
400mg Sodium

Contributed by Paula Deen, Owner & Proprietor of The Lady & Sons in Savannah, Georgia.
Copyright © 2006 The Vidalia Onion Committee, used with permission.