TORTILLA RICE SOUP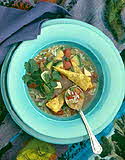 Yield: Makes 4 servings
Ingredients
• vegetable cooking spray
• 1/3 cup sliced green onions
• 4 cups chicken broth
• 2 cups cooked rice
• 1 10-1/2 ounce can diced tomatoes with green chiles, undrained
• 1 cup cooked chicken breast cubes
• 1 4-ounce can chopped green chiles, undrained
• 1 tablespoon lime juice
• salt to taste
• tortilla chips
• 1/2 cup chopped tomato
• 1/2 avocado, cut into small cubes
• 4 lime slices for garnish
• fresh cilantro for garnish

Directions
Heat Dutch oven or large saucepan coated with cooking spray over medium-high heat until hot.

Add onions; cook and stir until tender.

Add broth, rice, tomatoes and juice, chicken and chiles.

Reduce heat to low; cover and simmer 20 minutes.

Stir in lime juice and salt.

Just before serving, pour into soup bowls; top with tortilla chips, tomato and avocado. Garnish with lime slices and cilantro.
Nutrition Facts
Calories 305
Total Fat 10g
Cholesterol 27mg
Sodium 1601mg
Total Carbohydrate 36g
Dietary Fiber 1g
Protein 16g

USA Rice Federation (www.usarice.com)