Coconut Almond Chicken Stew With Cilantro Recipe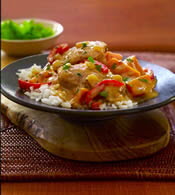 Almond butter makes a starring appearance in this Caribbean-inspired stew enhanced with the addition of coconut milk, red chili paste, and cilantro.
Makes 8 servings.
Prep Time: 15 minutes
Cook Time: 40 minutes
Ingredients
· 8 boneless skinless chicken thighs (about 2 pounds), trimmed
· 1 teaspoon McCormick Gourmet Collection Sicilian Sea Salt
· 1/2 teaspoon McCormick Gourmet Collection Coarse Grind Black Pepper
· 2 tablespoons olive oil
· 1 large onion, chopped (1 cup)
· 2 tablespoons Thai Kitchen Roasted Red Chili Paste
· 2 cups chicken broth
· 1 can (13.5 ounces) Thai Kitchen Coconut Milk
· 1 large sweet potato (1 pound), peeled, quartered lengthwise and cut into 1-inch slices (about 2 cups)
· 1 small red bell pepper, cut into thin strips (1 cup)
· 1/2 cup smooth almond butter
· 1/4 cup fresh lime juice
· 1/2 cup chopped fresh cilantro
· Cooked Thai Kitchen Jasmine Rice or basmati rice (optional)

Directions
1. Season chicken with sea salt and pepper. Heat oil in 5-quart nonstick Dutch oven or saucepot on medium-high heat. Add chicken; cook 3 minutes per side or until golden brown. Remove chicken. Add onion; cook and stir 3 minutes or until lightly browned. Add chili paste; cook and stir 1 minute.

2. Stir in broth, coconut milk, sweet potato and bell pepper. Bring just to boil. Return chicken and any juices to Dutch oven. Reduce heat to low; cover and simmer 25 minutes or until chicken is cooked through and sweet potato is tender.

3. Mix almond butter, lime juice and 1 cup of sauce from the stew in medium bowl with wire whisk until smooth. Gradually stir back into stew. Simmer 5 minutes or until sauce is slightly thickened, stirring occasionally. Sprinkle with cilantro. Serve over cooked rice, if desired.

Nutritional Information Per Serving:
447 Calories, Fat 31g, Protein 25g, Carbohydrates 17g, Cholesterol 78mg, Sodium 679mg, Fiber 3g