NADIA G, CHUCK HUGHES & KELSEY SHARES
Halloween Special, Thanksgiving Essentials & Portland Maine

Nadia G's Bitchin' Halloween Special
Airing on Cooking Channel: Sunday, October 21st at 8PM ET / 5PM PT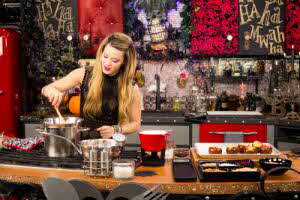 Nadia G creates a spooky-licious feast that is just as scary as it is delicious as she discusses some strange Halloween traditions, dishes on bad costumes and shares her worst fears.

She celebrates her favorite (un) holiday - Halloween - with aptly named Creepy Bocconcini Eyeballs wrapped in Prosciutto Flesh; Maggot Salad; Vegetarian Coffin Sandwiches; Bracciole Severed Arm; "Blood" Marinara; and Toffee Designer Candied Apples with Maldon Salt. Panos talks flank steak, The Spice Agent reports on pimento and Maldon salt and Hans yaps about healthy alternatives to candy.

Chuck's Eat The Street
"Where the Ocean Meets the Farm" Spotlights Portland, Maine
Airing on Cooking Channel: Tuesday, October 30th at 8:30pm ET | 5:30pm PT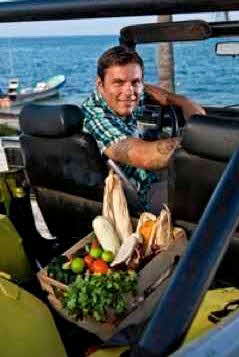 Chuck Hughes hits the road to visit iconic, American streets and eat his way through the city to discover famous establishments and hidden gems in Chuck's Eat the Street.

The "foodiest small town in America" has a lot to brag about. Portland, Maine, is where the ocean meets the farm, and Chuck tastes it all, including an underappreciated fish that gets its moment to shine in a delicate Pollock stew at Farmer's Table. Chuck also experiences the best sticky buns outside Paris at Standard Baking, along with a smoked lamb inspired by Italy at Vignola Cinque Terre, and a fresh, steamed lobster that Chuck catches himself at Three Sons Lobster & Fish.

Kelsey Shares The Thanksgiving Essentials
"Mock Thanksgiving"
Premiering on Cooking Channel: Saturday, November 10th at 8:30pm ET/ 5:30pm PT
Kelsey's family loves creating surprising Thanksgiving dishes from classic tastes we've all grown to love, and the mother-daughter duo Aliyyah and Jo-Ann Baylor of Make My Cake Bakery in Harlem are no different.

Their sweet potato cupcake just might become a part of your new Thanksgiving tradition. Inspired, Kelsey heads back to her kitchen to start on an Apple Roasted Turkey Breast with a Cranberry Glaze. To round out the menu, she serves up a Pickled Root Vegetable Salad and a bright and tangy Cranberry Salad for dessert. Plus for the next day, Kelsey whips up a Leftover Turkey Sandwich with Spicy Cranberry Cream.

Cooking Channel (www.cookingchanneltv.com) is an entertainment brand dedicated to today's passionate food lover.