Nadia G's Bitchin' Kitchen 2nd Season Premiere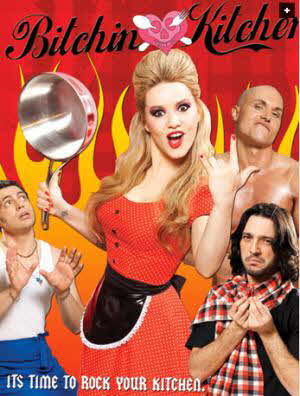 Airing on Cooking Channel Wednesday, September 26th at 10:00PM ET | 7:00PM PT
September 26th:
"Childhood Favorites"
Nadia G revamps her favorite childhood dishes and shares stories about her youth. Items on the menu include and updated version of fish sticks, Baccala Croquettes with Tangy Dill Aioli, Riso con la Ricotta which consists of rice and ricotta, sweet peas and pancetta, Adult PB&J with homemade peanut-cashew butter and spicy raspberry jam heightened with Anaheim chilies. Panos talks salt cod, the Spice agent reports on Anaheim chilies and Hans informs us about organic peanuts.

Nadia G's Bitchin' Kitchen
She's young, funny and can cook up a storm in three-inch cherry stiletto heels. Nadia G looks at the funny side of everyday life situations and turns them into occasions worth celebrating -- with great food and big laughs. The focus is on accessible haute cuisine, fresh organic ingredients, and a hands-on approach.

Nadia G.'s recipes are rooted in the regional Italian cuisine that she grew up with, inspired by her experiences traveling throughout Europe and North America and infused with the culinary influences and cultural diversity of her beloved hometown of Montreal. Nadia G.'s passion for food and cooking started in childhood surrounded by a boisterous Italian family of cooks and caterers who never quite gave up the belief that Casalinga-style cuisine is the centre of the universe.

Following Bitchin Kitchen's runaway success across the web, a best-selling cookbook and awards for Favorite Mobile Series, Hottest Emerging Digital Brand in Canada and nomination for Brand of the Year (alongside Doritos and Coors) in 2009, her brainchild has become the first-ever lifestyle brand to go from online to prime-time.
Cooking Channel: www.cookingchanneltv.com/