PIZZA CUZ: ADVENTURES IN PIZZA
Cooking Channel serves up some slices with a side of adventure in New Series
Featuring Sal Basille and Francis Garcia, The Masterminds Behind NYC's Divinely Delectable Cult Pizzeria Trio, Artichoke Basille
Series Premiere Monday, May 6th at 9pm ET/6pm PT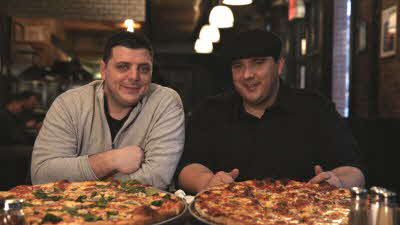 Cooking Channel takes viewers along for a mouth-watering exploration of pizza across the country through the eyes and taste buds of two pizza aficionados in Pizza Cuz, premiering Monday May 6th at 9pm ET/6pm PT. Over the course of six episodes Francis Garcia and Sal Basille, owners of the growing pizza empire Artichoke Basille's Pizza in New York City, travel everywhere the smell of pizza can take them, from San Francisco to Philadelphia, Michigan to Oregon, and in their own backyard of Brooklyn, tasting and discovering everything related to pizza along the way.

Cousins and best friends, Francis Garcia and Sal Basille opened Artichoke Basille's® in New York City in 2008. Having gotten their hands into the business early working at their family's restaurant, Basille's in Staten Island, the boys and their pizza shop have made more than a name for themselves in Manhattan. In 2010, the cousins opened up their second Artichoke location in Chelsea, New York City, featuring sit-down dining and expanded menu items. And a third location opened to serve up the legendary slices in what was once the heart of American Bohemia, Greenwich Village on MacDougal Street. Their never-ending line of devoted fans includes the likes of Keith Richards and Momofuku's David Chang.
Pizza Cuz Series Premiere Episode
"Masters"
Monday, May 6th at 9pm ET/6pm PT
Francis and Sal meet some of the top pizza masters across the country, as they travel to Portland, Oregon to devour some house-smoked bacon pizza at Apizza Scholls. And after grabbing wild nettles and sausage slices in Oakland, California, Sal and Francis head back to New York City to make their own Burrata cheese for an authentic pizza pie.