Mo Rocca: 'My Grandmother's Raviol'
Rocca Visits Home Kitchens Across the Country in Original Series
New Series 'My Grandmother's Ravioli' Premiering Wednesday, October 24, 2012 at 8:30pm ET/5:30pm PT on Cooking Channel
Mo Rocca learns treasured family recipes, and a lot more, from grandparents across the country in the 13-episode original series My Grandmother's Ravioli.
While he was growing up, Mo's grandmother prepared sumptuous Sunday dinners for the family, with "Momma's" ravioli as the main event. Although he could never forget those meals, Mo never learned her recipes. Now he's doing the next best thing: visiting other people's grandmothers and grandfathers who lovingly, and patiently, teach Mo traditional, mouthwatering specialties. In addition to making food that will take viewers back to their childhood, the grandparents share their inspiring personal stories and funny family anecdotes in each 30-minute episode.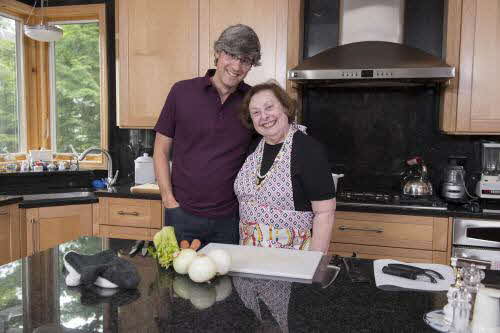 "My Grandmother's Ravioli combines food and family with Mo's distinctive voice, resulting in a hilarious, heartwarming and delicious look at our grandparents' generation," said Michael Smith, General Manager and Senior Vice President, Cooking Channel. "Mo's storytelling through food is truly unique. He enters each grandparent's home with appreciation and a sense of humor and they welcome him with open arms - as will our audience."

"From Mary and her pierogi to Genevra and her peach ice cream to Gaetano and his shotgun - how else were we going to make venison stew? - this has been an unforgettable journey," says Rocca. "I'll be honest, this show isn't for everyone. If you hate grandmothers and home-cooked meals, you should not tune in."

In the premiere episode, Mo visits 76-year-old spitfire grandmother Ruth Teig in Scarsdale, NY for a lesson in classic Jewish cuisine. The menu includes meat-filled kreplach; a modernized version of homemade gefilte fish (not the glass jar kind, oy!); and Ruth's famous 'miracle' coffee cake, which is much-loved by family, friends, her plumber, her contractor and even the local DMV. Ruth also shares family anecdotes, gives Mo a hilarious tutorial in Yiddish expressions and explains how, as a Holocaust survivor, she truly appreciates all the wonderful things in life. The episode culminates in a traditional Shabbat dinner, prepared by Ruth and Mo, and enjoyed with family and friends. Upcoming episodes feature a Boston-based Thai grandmother, an upstate New York firefighter who also cooks for the firehouse and an Italian-American couple who have been married for over sixty years.

Mo Rocca is a Correspondent for CBS Sunday Morning with Charles Osgood and the host of Food(ography) on Cooking Channel. Electoral Dysfunction, a documentary on the history of American elections hosted by Rocca, will be broadcast this October on PBS.
My Grandmother's Ravioli is produced by CBS Eye Too Productions.

Cooking Channel (www.cookingchanneltv.com) is an entertainment brand dedicated to today's passionate food lover.