MAN FIRE FOOD
Airing on Cooking Channel
The heat is on as chef Roger Mooking travels the country to discover inventive ways to cook with fire, in Cooking Channel's (www.cookingchanneltv.com) new series Man Fire Food. Roger endures the heat as he visits with pit masters, chefs and home cooks, all looking to create complex, flavorful dishes utilizing the element of fire. Whether cooking over an open fire in a rustic chuck wagon or smoking meat from inside a double-decker, Roger follows the smoke signals for a mouthful of flavor and a whole lot of heat.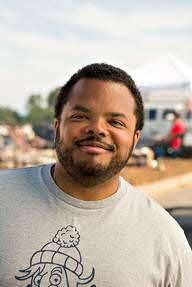 Fired-Up Chefs
Tuesday, September 25th, 2012 - 10:00pm et | 7:00pm pt
Roger meets two chefs from Texas who love to play with smoke and fire for customers in their restaurant and for family and friends in their backyard. By day, Tom Spaulding serves Texas-style barbecue at his restaurant Live Oak in Austin, Texas. But for special occasions, Tom builds a four for a South American parilla-style spread, complete with rib roasts, pork steaks and more. At Chicken Scratch restaurant in Dallas, Tim Byres spins spice-rubbed chickens from his unique wood-burning rotisserie. In the middle of his vegetable garden, Tim has dug a deep hole and lined it with bricks to make delicious Mexican Lamb Barbacoa inside, and Pork Carnitas on top

Feast Over Flame (Series Premiere)
Tuesday, September 18th at 10:00PM ET | 7:00PM PT
The fires glow bright in the Carolinas. Roger visits Skylight Inn, family-run restaurant in Ayden, North Carolina who have been serving whole hog-style barbecue for 65 years. In Greer, South Carolina, five friends create an extravagant two-day, meat-filled feast called "Bovinova, Barn Yard Burn." Six hundred hungry barbecue lovers come for the surf and turf paella, roasted chickens, roasted lamb, pigs and the main attraction, a whole roasted cow!