New Season of 'Kimberly's Simply Southern'
Great American Country Launches Sizzling New Season of 'Kimberly's Simply Southern' Hosted by Grammy-Winning Little Big Town Founding Member Kimberly Schlapman
Special Guests Include Josh Turner, Martina McBride, Craig Morgan, Supermodel Niki Taylor, Jerrod Niemann, and More
Nashville, Tenn. – March 2013
Kimberly's Simply Southern, a one-of-a-kind cooking show featuring lively and engaging Little Big Town founding member Kimberly Schlapman, kicks off a second season on Saturday, March 9 at 1:00 pm ET on Great American Country (GAC).

The new season spotlights Kimberly's lifelong passion for making simple, home-cooked recipes with her family and country singing friends back home--using local culinary finds from all corners of the country. In the series, Kimberly discovers America's best local foods, ingredients, and traditions while on the road with her band Little Big Town — which just won the 2013 Grammy Award for Best Country Duo/Group Performance for "Pontoon." In each episode, Kimberly hops off the tour bus to discover the people who share her love of tasty good vittles.
(2nd Season Episode Summaries)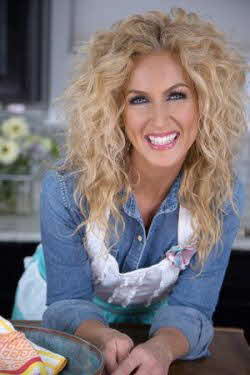 Once back in her Nashville kitchen, Kimberly is joined by family and some of her famous friends to create authentic southern cuisine combining her traditional family recipes with what she has learned during her travels. Some of the friends who stop by to chat, chop and chow down this season include Josh Turner, Martina McBride, Craig Morgan, Sunny Sweeney, Alabama's Ashton Shepherd, up-and-coming country artists Jerrod Niemann and Dustin Lynch, and supermodel Niki Taylor. Schlapman's young daughter, Daisy Pearl, and all the Little Big Town kids also drop by with her fellow band mate Karen Fairchild for a special episode on cupcakes!

"Cooking has always been Kimberly's passion, and our Great American Country audience also loves to see her in the field hunting for treasures as well as cooking in the kitchen, so the series combines the best of both worlds," said Sarah Trahern, senior vice president and general manager, Great American Country.

In the new season, Kimberly takes a swamp buggy ride through elusive gators in a Florida citrus grove to pick mouth-watering fruit for a few special recipes; learns how to make homemade pasta in Las Vegas for the band; harvests oysters in the cold waters of Washington State; milks cows at dawn on a Georgia farm for delectable homemade dairy products; handcrafts chocolate from bean to bar with a pair of masterful brothers at a Brooklyn cocoa factory, and much more.

Kimberly's varied and authentic experiences inspire new twists and flavors in her dishes: citrus cake with key-lime glaze, spaghetti casserole, turkey meatballs with southern pecans instead of Italian pine nuts, baked oysters with creamed collard greens, buttermilk pork chops, strawberries and balsamic cream, grilled ribeye steak with spiced cocoa nib rub, granny Beck's apple butter, and so much more.
Kimberly's Simply Southern is produced for Great American Country by Al Roker Entertainment (www.alrokerentertainment.com).
"We are thrilled to be working on the second season of 'Kimberly's Simply Southern' with Great American Country," said Al Roker, CEO of Al Roker Entertainment. "We look forward to inviting Kimberly's fans back into her kitchen for another exciting season with special guests."
For recipes and more information, log on to www.gactv.com/simplysouthern