See also: Article on Spinach; Spinach Quotes
Spinach Recipes
SPINACH

According to the USDA, 40,100 acres of Spinach were harvested for the fresh market in 2009.
An additional 10,100 acres were harvested for processing: 9,700 acres for freezing and 400 acres for canning.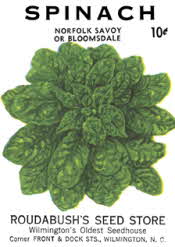 Spinach is believed to be of Persian origin and introduced into Europe in the 15th century. Since the early 19th century, spinach has been a versatile and commonly used vegetable in the United States. (CDC.gov)


19th century cookbooks called for boiling spinach for 25 minutes!

In 1929 Popeye the spinach loving sailor first appeared in the comic strip 'Thimble Theatre.' Elzie Segar created Popeye.

In 1937 Spinach growers in the U.S. erected a statue in honor of Popeye the comic strip sailor.

Spinach was the first frozen vegetable to be sold.

SPECIAL NOTE - Iron and calcium in plant foods are not highly absorbed by the body. Spinach contains a chemical called oxalic acid, which binds with iron and calcium and reduces the absorption of these minerals. To improve iron absorption, spinach should be eaten with vitamin C-rich foods such as orange juice, tomatoes, or citrus fruit. (CDC.gov)

Please feel free to link to any pages of FoodReference.com from your website.
For permission to use any of this content please E-mail: [email protected]
All contents are copyright © 1990 - 2023 James T. Ehler and www.FoodReference.com unless otherwise noted.
All rights reserved. You may copy and use portions of this website for non-commercial, personal use only.
Any other use of these materials without prior written authorization is not very nice and violates the copyright.
Please take the time to request permission.


FOOD TRIVIA and FOOD FACTS
FoodReference.com (since 1999)
FOOD TRIVIA and FOOD FACTS SECTION