RYE FACTS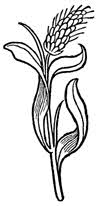 Rye (Secale cereale) is a hardy cereal grass which is widely cultivated for its grain. It is used to make bread, distill alcoholic spirits, as livestock feed, for hay and straw and pasturage, as a green manure; it is also used in matresses, for thatching, hats and paper.

Rye most likely originated in southwest Asia (some sources also indicate North Africa) as a weed in crops of domesticated wheat and barley around 4000 B.C. It was domesticated between 2000-1000 B.C. around the Baltic Sea probably because it grew better in poor soils and colder, moist climates and is also more resistant to disease. Rye can be grown at altitudes up to 12,000 feet and as far north as the Arctic Circle.

The world's main rye producing countries are Russia, Poland, Belarus, Ukraine and Germany.

Wheat production exceeded Rye production in Germany for the first time in 1957.

Rye flour is high in protein with a low gluten content and can absorb up to 8 times its weight in water (wheat flour absorbs 2 times its weight in water).

Rye is known as the 'grain of poverty' because it thrives in poor soils.

Rye production is only 10% that of wheat, but it is the second most used cereal grain (wheat is first) for making bread.