See also: Article on Rhubarb; Rhubarb Tips
RHUBARB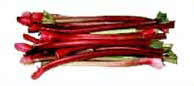 Benjamin Franklin's cure for flatulence was dried rhubarb and attar of roses dissolved in wine.

Rhubarb is a relative of buckwheat and has an earthy, sour flavor. Rhubarb thrives in cold climates and originated in Western China, Tibet, Mongolia, Siberia and neighboring areas. The traditional role was medicinal-the dried root was a popular remedy for a wide range of illnesses. Its primary function was to induce vomiting, although rhubarb is also a mild astringent. This medicinal role caused the price of the dried root to rise. In 1542, rhubarb sold for ten times the price of cinnamon in France and in 1657 rhubarb sold for over twice the price of opium in England. (Schneider, 2001).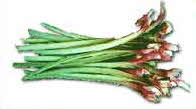 Beginning in the eighteenth century, rhubarb began to be consumed in foods, primarily drinks and meat stews.

Botanically speaking, rhubarb is considered a vegetable, but it's most often treated as a fruit — though it's rarely eaten raw. Just like fresh cranberries, rhubarb is almost unbearably tart on its own and needs the sweetness of sugar, honey, or fruit juice added to it to balance out the acidity. Rhubarb's nickname is the 'pie plant' because that is the primary use for this vegetable.
CDC.gov - 5 a Day
Rhubarb was legally classified as a fruit in the U.S. in 1947, even though botanically it is a vegetable.

In 2008 the Minnesota Legislature proclaimed Lanesboro, Minnesota the Rhubarb Capitol of Minnesota. Lanesboro is home to an Annual Rhubarb Festival, with Rhubarb Stalk Throw, Golf (clubs of rhubarb stalks), Toss and Juggling; Rhubarb Rants, Stories, Songs & Music; Rhubarb Recipes, Tasting Contests, Largest Leaf and Heaviest Stalk Contests, Rhubarb Bake Sales, etc.

Rhubarb was introduced to the United States at the end of the eighteenth century. Today most rhubarb is frozen for commercial and institutional use; only about a quarter of the crop is sold fresh.
CDC.gov - 5 a Day
WARNING: Never eat rhubarb leaves, cooked or raw. Eating the leaves can be poisonous because they contain oxalate. This toxin, plus another unknown toxin also found in the leaves, has been reported to cause poisoning when large quantities of raw or cooked leaves are consumed.

Please feel free to link to any pages of FoodReference.com from your website.
For permission to use any of this content please E-mail: [email protected]
All contents are copyright © 1990 - 2023 James T. Ehler and www.FoodReference.com unless otherwise noted.
All rights reserved. You may copy and use portions of this website for non-commercial, personal use only.
Any other use of these materials without prior written authorization is not very nice and violates the copyright.
Please take the time to request permission.


FOOD TRIVIA and FOOD FACTS
FoodReference.com (since 1999)
FOOD TRIVIA and FOOD FACTS SECTION