See also: Article on Fennel
FENNEL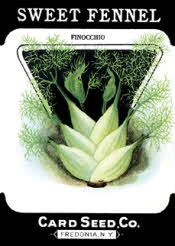 Fennel seed is the dried, ripe fruit of the perennial Foeniculum vulgare. Tall and hardy, this plant has finely divided, feathery, green foliage and golden yellow flowers. Oval seeds form in clusters after the flowers have died and are harvested when they harden.

Virtually all of the fennel plant is edible: the roots and stalks can be cooked and eaten as a vegetable; the stems chopped and added to salads; the bulb eaten raw or cooked; chopped leaves used in soups, with fish or added to salads; fennel seeds are used in pickles, liqueurs, tomato sauces and sausages; fennel oil is used in candy, liqueur and perfume.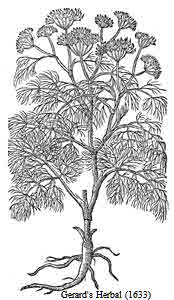 Flies are said to dislike fennel, and powdered fennel has been used to keep flies away in kennels and stables.

Ancients believed Fennel Seed was particularly helpful in eyesight. It was also believed to increase strength. In ancient Greece, it was considered a symbol of success. In more recent history, the Puritans referred to Fennel as the "meeting seed" as it was a favorite practice to chew the seeds during meetings. Today, Fennel Seed is widely used in India as an after-dinner breath freshener and also to help in digestion.

Fennel is native to southern Europe and the Mediterranean area. The name fennel originates from the Greek word for "marathon" which is the famous battle at Marathon in 490 B.C. where the Greeks fought against the Persians who fought on a field of Fennel.

Often mistaken for celery, this vegetable has a different taste that is quite similar to anise or licorice. Fennel is often grown for its seeds and oil from the leaves and used for various food flavorings.

Please feel free to link to any pages of FoodReference.com from your website.
For permission to use any of this content please E-mail: [email protected]
All contents are copyright © 1990 - 2023 James T. Ehler and www.FoodReference.com unless otherwise noted.
All rights reserved. You may copy and use portions of this website for non-commercial, personal use only.
Any other use of these materials without prior written authorization is not very nice and violates the copyright.
Please take the time to request permission.
FOOD TRIVIA and FOOD FACTS
CULINARY SCHOOLS
& COOKING CLASSES
From Amateur & Basic Cooking Classes to Professional Chef Training & Degrees
FoodReference.com (since 1999)
FOOD TRIVIA and FOOD FACTS SECTION