DORMICE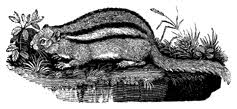 The dormouse is a small rodent that nests in trees, and is found throughout Europe, Asia and northern Africa. They actually look more like a squirrel than a mouse.

It is thought that the name 'dormouse' comes from the fact that they were eaten when fat, just before their winter dormancy.

In ancient Rome, dormice were a delicacy. They were raised in cages and fattened on a diet of chestnuts and acorns. In Petronius' 'Satyricon' they are served with honey and poppies.

Edible wild dormice are still consumed in Slovenia, where they are considered a rare delicacy. In southern Italy they are becoming an endangered species due to illegal hunting.

CULINARY SCHOOLS
& COOKING CLASSES
From Amateur & Basic Cooking Classes to Professional Chef Training & Degrees - Associates, Bachelors & Masters - More than 1,000 schools & classes listed for all 50 States, Online and Worldwide
FOOD TRIVIA and FOOD FACTS
Please feel free to link to any pages of FoodReference.com from your website.
For permission to use any of this content please E-mail: [email protected]
All contents are copyright © 1990 - 2022 James T. Ehler and www.FoodReference.com unless otherwise noted.
All rights reserved. You may copy and use portions of this website for non-commercial, personal use only.
Any other use of these materials without prior written authorization is not very nice and violates the copyright.
Please take the time to request permission.
FoodReference.com (since 1999)
FOOD TRIVIA and FOOD FACTS SECTION