DORMICE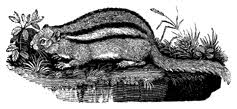 The dormouse is a small rodent that nests in trees, and is found throughout Europe, Asia and northern Africa. They actually look more like a squirrel than a mouse.

It is thought that the name 'dormouse' comes from the fact that they were eaten when fat, just before their winter dormancy.

In ancient Rome, dormice were a delicacy. They were raised in cages and fattened on a diet of chestnuts and acorns. In Petronius' 'Satyricon' they are served with honey and poppies.

Edible wild dormice are still consumed in Slovenia, where they are considered a rare delicacy. In southern Italy they are becoming an endangered species due to illegal hunting.