HIPPOPOTAMUS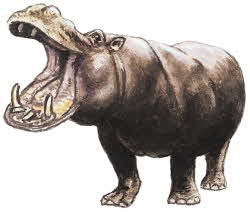 A mode of cooking a dish of hippopotamus, discovered by Sir Samuel Baker, is well worth bearing in mind. Speaking of it, he says:
'I tried boiling the fat flesh and skin together, the result being that the skin assumed the appearance of the green fat of the turtle, but is far superior. A piece of the head thus boiled and then soused in vinegar, with chopped onions and cayenne pepper and salt, throws brawn completely in the shade.'
Great and Small Game of Africa: An Account of the Distribution, Habits and Natural History of the Sporting Mammals, with Personal Hunting Experiences (London: Rowland Ward, Ltd, 1899)

CULINARY SCHOOLS
& COOKING CLASSES
From Amateur & Basic Cooking Classes to Professional Chef Training & Degrees - Associates, Bachelors & Masters - More than 1,000 schools & classes listed for all 50 States, Online and Worldwide
FOOD TRIVIA and FOOD FACTS
Please feel free to link to any pages of FoodReference.com from your website.
For permission to use any of this content please E-mail: [email protected]
All contents are copyright © 1990 - 2023 James T. Ehler and www.FoodReference.com unless otherwise noted.
All rights reserved. You may copy and use portions of this website for non-commercial, personal use only.
Any other use of these materials without prior written authorization is not very nice and violates the copyright.
Please take the time to request permission.
FoodReference.com (since 1999)
FOOD TRIVIA and FOOD FACTS SECTION