CHICKEN POT PIE with RICE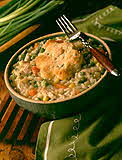 Yield: Makes 6 servings.
Ingredients
• 2 tablespoons butter
• 1 large onion, chopped
• 2 cloves garlic, minced
• 3/4 teaspoon dried thyme leaves
• 1/2 teaspoon sage
• 1/4 teaspoon ground black pepper
• 1/3 cup flour
• 2 14½-ounce cans chicken broth
• 1 16-ounce package mixed frozen vegetables
• 3 cups cooked rice
• 2 cups cooked chopped chicken
• 1/2 cup chopped fresh parsley
• 1½ cups baking mix**
• 3/4 cup buttermilk**
• 1/2 cup finely chopped green onions

Directions
Heat butter in Dutch oven over medium-high heat until hot. Add onion, garlic, thyme, sage and pepper. Cook and stir 3 to 5 minutes until onion is tender. Add flour, cook and stir 1 to 2 minutes. Whisk in broth; cook, whisking 4 to 6 minutes or until sauce boils and thickens. Stir in vegetables; cook 5 to 7 minutes or until vegetables are tender. Stir in rice, chicken and parsley; cook, stirring 2 to 3 minutes more. Place in 2½-quart casserole.

Combine baking mix, buttermilk and green onions in medium bowl. Genty stir, just until dough comes together. Form dough into 9-inch long log on lightly floured surface; cut crosswise into 6½-inch rounds. Or roll out dough on lightly floured surface to 1/2-inch thickness and cut with different shaped cookie cutters. Or top casserole with biscuits, spacing evenly. Bake in 425-degree oven for 20 minutes until filling is bubbly and biscuits are golden brown. Serve immediately.

May be prepared 1 day ahead. Cover and refrigerate. Bring to room temperature before baking.

**1 can of store-bought biscuits can be used in place of homemade; top with green onions.

Nutrition Facts
Calories 487
Total Fat 14g
Cholesterol 49mg
Sodium 1413mg
Total Carbohydrate 69g
Dietary Fiber 1g
Protein 23g

USA Rice Federation (www.usarice.com)