CHICKEN POT PIE WITH EDAMAME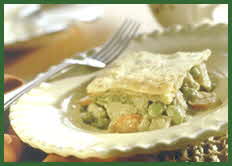 INGREDIENTS
• 1 sheet (8½ oz) Frozen puff pastry (1/2 of 17.3 oz pkg.), thawed
• ½ cup All-purpose flour
• 2 tsp Poultry seasoning, ground
• 1½ tsp alt
• ½ tsp Black pepper, ground
• 1 lb Chicken breasts, boneless, skinless, cut into 1-inch cubes
• 2 TBL Butter or margarine
• ½ cup Shallots, finely diced
• 2 cloves Garlic*, minced
• 1½ cups Chicken broth
• 1 cup Soymilk, unsweetened
• 1 cup Potatoes, peeled and cut into 1/2-inch cubes
• 1 cup Edamame (whole green soybeans), shelled and cooked
• 1 cup Carrots, peeled and cut into 1/4-inch rounds

DIRECTIONS
Preheat oven to 375°F. Roll out pastry into 9x9-inch square or round to match baking dish shape. Place on baking sheet and chill.

Stir flour, poultry seasoning, salt and pepper in large bowl until blended. Add chicken and stir until coated.

Melt butter or margarine in large skillet. Sauté shallots and garlic until translucent. Add chicken mixture (including left over flour). Sauté 10 to 12 minutes or until chicken is cooked.

Stir chicken broth and soymilk slowly into chicken mixture until blended. Add potatoes, edamame and carrots. Bring to boil, reduce heat and simmer 10 minutes or until vegetables are tender.

Pour into buttered 2½-quart baking dish. Place pastry over vegetable mixture. Bake at 375°F 30 to 35 minutes or until golden. Let stand 10 minutes before serving. Makes six servings.

* May substitute ½ teaspoon garlic powder for the fresh garlic, if desired.

Nutritional Analysis per Serving:
470 Calories (44% Calories from Fat), 27g Protein, 39g Carbohydrate, 4g Fiber, 23g Fat, 55mg Cholesterol, 1060mg Sodium.

This recipe meets the requirements of the FDA's health claim on soy protein, which states "25 grams of soy protein a day, as part of a diet low in saturated fat and cholesterol, may reduce the risk of heart disease." Foods that meet the health claim must contain 6.25 grams of soy protein and be low in fat, saturated fat and cholesterol.
Recipe & photo courtesy of the United Soybean Board