CHOCOLATE DIPPED STRAWBERRY TART WITH PECAN CRUMB CRUST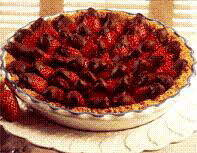 California Strawberries. The Ripe Ingredient.
Prep time: 35 minutes
Cook time: 10 minutes
Chill time: 2 hours
Makes 8 servings

Ingredients:
• 16 graham cracker squares, finely crushed (about 1 1/4 cups crumbs)
• 1/3 cup butter, melted
• 1/4 cup sugar
• 1/4 cup finely chopped pecans
• 1/4 cup whipping cream
• 1 cup (6 oz) semi-sweet chocolate morsels, divided
• 1/2 teaspoon vanilla extract
• 2 teaspoons vegetable oil
• 4 to 5 cups (about 1½ lbs.) stemmed and halved California strawberries

Directions:
Heat oven to 375 degrees.

In small bowl, mix together graham cracker crumbs, butter, sugar and pecans until combined; press firmly onto bottom and side of 9-inch pie dish. Bake 8 to 10 minutes or until lightly browned.

Meanwhile, in small saucepan, heat cream over medium heat just to a boil; remove from heat. Add 1/2 cup of the chocolate morsels and vanilla; whisk until chocolate is melted and mixture is smooth. Spread onto bottom of crust.

In small microwave-safe dish, microwave remaining 1/2 cup chocolate morsels and oil on HIGH 45 seconds; stir. Microwave at 10-second intervals, stirring until smooth.

To assemble, dip small end of each strawberry half into chocolate to cover by one-third, allowing excess chocolate to drip off. Starting from the outside edge, arrange strawberry halves, cut sides down and chocolate ends up, in tight concentric circles to fill crust.

Refrigerate tart 2 hours or until chocolate is firm.

For best chocolate flavor, allow tart to stand at room temperature 10 minutes before cutting.
Tips:
A prepared graham cracker pie crust can be substituted for Pecan Crumb Crust. Before baking, lightly brush inside surface with beaten egg white. Bake in 375 degree oven for 5 minutes. Proceed as recipe directs. For easy removal of tart, dip bottom of chilled pie dish into warm water for 10 seconds before cutting.
Nutritional Information:
373 calories; 23 g fat; 31 mg cholesterol; 169 mg sodium; 42 g carbohydrate; 7 g fiber; 2 g protein
Recipe Courtesy of the California Strawberry Commission