BAKED APPLE UPSIDE DOWN FRENCH TOAST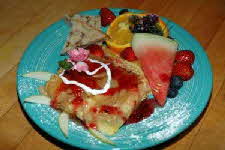 Serves 6 to 8.
Recipe courtesy of:
Shelburne Inn & China Beach Retreat, Seaview, WA


Ingredients:
• 3 lbs Granny Smith apples, peeled, quartered and thinly sliced
• 6 tablespoons butter
• 3/4 cups granulated sugar
• 1 teaspoon cinnamon
• 8 slices French bread, sliced 3/4" thick
• 6 to 7 eggs
• 1/2 teaspoon vanilla
• 1/4 teaspoon freshly grated nutmeg
• 1 cup milk
• 1/2 cup heavy cream


Directions:
Melt butter in large sauté pan and add sliced apples.

Top apples with sugar and cinnamon and stir to incorporate.

Sauté over medium heat until apples are limp and translucent, about 10 minutes, stirring so they don't scorch.

Pour apples into 9 x 13" glass oven proof baking dish. Top with sliced French bread. Fill any spaces with small pieces of sliced bread so that entire surface is covered.

Whisk eggs with vanilla, nutmeg, milk and cream. Pour this mixture over the bread evenly so that all pieces absorb the liquid. Cover with plastic wrap and refrigerate until morning.

The next morning, pre-heat the oven to 400 degrees.

Bake French toast for 25 minutes or until bread is golden and custard is set.

Invert carefully onto a sheet pan and cut into squares to serve, apple side up. You may add the syrup of your choice and a dollop of crème fraiche.