OATMEAL APPLE CRUNCH FRENCH TOAST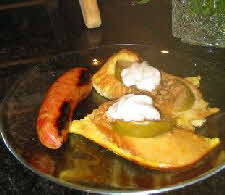 Serves 6.
Recipe courtesy of: Peninsula House, Annapolis, MD


Ingredients:
• 12- 1 inch pieces French bread cut on the diagonal
• 1/2 cup oatmeal, toasted in oven on cookie sheet for 15 minutes
• 1/2 cup butter at room temperature
• 1/2 cup flour
• 1/2 cup brown sugar
• 12 eggs
• 1 1/2 cups milk
• 1 teaspoon almond extract
• 2 apples cored and sliced into this wedges


Directions:
Place bread on the bottom of a well greased baking dish. Put several pieces of apple on each piece of bread.

Whisk eggs milk and almond extract and pour over bread with apples.

Combine brown sugar, room temperature butter flour and toasted oatmeal to a course consistency and place a generous amount on each bread with apple.

Cover and refrigerate over night and bake tented with foil at 350 degrees for one hour.

Serve with maple syrup.