STONE CRAB
See also: Summer Crabs; Stone Crab;
Crab Trivia; Blue Crab Trivia
Recipes: Crab Appetizers;
Crab Entrees; Stone Crab Recipes
Stone crabs are found along the Atlantic and Gulf Coasts but are commercially harvested almost entirely in Florida. Adult stone crabs are easily recognized by their oval body and two large claws. The adult body of the stone crab is dark brownish red, more or less mottled and spotted with dusky gray. An interesting feature about the stone crab is the mark on the inside of the large claw that resembles a thumb print.

Stone crabs inhabit bays and estuaries where they hide under rocks and shell fragments. When fully grown they move into shoals just below the low tide mark and dig oblique burrows 12 to 20 inches deep. Stone crabs are found along the Atlantic and Gulf Coasts but are commercially harvested almost entirely in Florida. Florida's regulatory agencies consider three species of crab to be true Gulf of Mexico stone crabs; Menippe mercenaria, Menippe adina, and the interbreeding hybrid of the two species. Stone crabs differ from blue crabs in that only the oversized claws are harvested. This highly nutritious meat is considered a delicacy and is usually boiled and served in the shell with a sauce. The meat resembles lobster in appearance and flavor.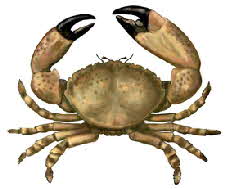 Stone crabs are captured commercially with traps which are re-baited every other day. Florida law forbids the taking of whole stone crabs. Fishermen are allowed to take claws at least 2 3/4 inches long and are required to return stone crabs safely to the water. The stone crab can regenerate its claws three to four times.

Stone crab season opens October 15 each year and runs through May 15. The majority of Florida stone crab claws are commercially harvested off the southern tip of Florida's peninsula from Sarasota to Fort Lauderdale. Stone crabs are harvested for their mouth watering claws and only the claws of the stone crab are removed. The stone crab is then returned to the water where it will regenerate new claws within 18 months. In 2004, nearly 3 million pounds of stone crab claws, with a dockside value of more than $26 million, were harvested in Florida waters.

Stone crab claws are cooked immediately after harvest, and sold either fresh cooked or frozen. Fresh cooked can be eaten within three to four days if packed in ice or stored in the coldest part of a refrigerator. Be sure to freeze only claws that are completely intact and free from cracks in the shell. The thick shell will protect the meat for up to six months in a home freezer. Thaw the claws in the refrigerator, allowing 12 to 18 hours for them to thaw completely. The quality will be compromised if they are thawed under running water or at room temperature.
The sweet-tasting meat of Florida stone crab claws is delicious unseasoned, with melted butter or your favorite sauce. To crack the shell, use a crab cracker, a tool you can purchase at your local kitchen supply or department store, or the back of a heavy spoon. Remove the cracked shell pieces, leaving the meat attached to the moveable pincer. Don't forget there is plenty of delicious meat in the knuckle of the claw. The meat can also be picked from the claws and used as an ingredient in other recipes. Approximately 2.5 pounds of cooked stone crab claws yield 1 pound of meat.

Florida stone crabs can be purchased at your local seafood market, supermarket or from suppliers and fishermen that sell on-line. Many restaurants also feature this crab treasure during the season. When shopping for stone crab claws, make sure you ask for "Florida" stone crab claws. While there are other crab claws similar in appearance, they do not have the delicious flavor of Florida stone crab claws.

STONE CRAB ATTRIBUTES
Firm texture, sweet meat. Low fat. Extra lean.

SUBSTITUTE SPECIES
Golden Crab, Blue Crab.

HOW MUCH TO BUY
Stone Crab claws: 3 claws per serving.

BUYING, STORAGE AND HANDLING
• Remember to purchase seafood last and keep it cold during the trip home.

• Stone crab claws are available cooked. They are cooked immediately after harvest to prevent the meat from sticking to the inside of the shell.

• Store cooked crabs and picked meat in the coldest part of your refrigerator or "meat keeper" at 32 degrees F and use within two days.

• Stone crab claws that are completely intact (occasionally claws crack during handling) can be frozen at 0 degrees F for up to six months.

• Thaw frozen stone crab claws in the refrigerator for 12 to 18 hours. If thawed under running water quality will be lost.

PREPARATION
• Keep raw and cooked seafood separate to prevent bacterial cross-contamination.

• After handling raw seafood thoroughly wash knives, cutting surfaces, sponges and your hands with hot soapy water.

• Always marinate seafood in the refrigerator.

• Discard marinade; it contains raw juices which may harbor bacteria.

• When marinade is needed for basting reserve a portion before adding raw seafood.

COOKING
• To remove meat from shell, crack all sections of shell with a hammer or nut cracker and pick out the meat.

• Serve alone or use in any recipe calling for crabmeat or lobster.

• To serve as hors d'oeuvre or appetizer, remove the shell and movable pincer, leave the meat attached to the remaining pincer. Serve with drawn butter and fresh lime juice.

NUTRITION
Nutritional values for approximately 4 ounces (114 grams) of raw, edible portions
• Calories 60
• Calories From Fat 0
• Total Fat 0 g
• Saturated Fat 0 g
• Cholesterol 45 mg
• Sodium 300 mg
• Total Carbohydrates 0 g
• Protein 15 g
Florida Department of Agriculture and Consumer Services www.fl-seafood.com