GOLDEN CRAB
See also: Summer Crabs; Stone Crab; Crab Trivia; Blue Crab Trivia Recipes: Crab Appetizers and Crab Entrees
The golden crab, Chaceon fenneri, is a large, non-swimming crab with a golden-cream shell that sets it apart from its close relatives, the deep-sea red crabs: snow and king. Adult males typically weigh between three and five pounds while the female is considerably smaller with limited commercial value.

A "condo" trap is one of the most effective means of harvesting the golden crab. This is a large (2 1/2' x 4' x 6') box-type wire trap with a bait holding cylinder and two tapered openings located at opposite ends. Traps are set by using a long-line at depths of 540 to 2,160 feet off the East Coast and 1,140 to 2,880 feet in the Gulf of Mexico north of the Florida Keys. The large traps are retrieved by grappling hooks and mechanical pulleys.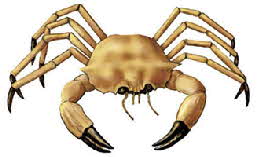 GOLDEN CRAB ATTRIBUTES
Delicate texture, sweet meat. Low fat.

SUBSTITUTE SPECIES
Blue Crab, Stone Crab, Spiny Lobster, Shrimp.

HOW MUCH TO BUY
Golden Crab clusters: 2 clusters per serving.

BUYING, STORAGE AND HANDLING
• Remember to purchase seafood last and keep it cold during the trip home.
• Golden crab is available live, as uncooked clusters and as cooked halves, clusters and picked meat.
• Store cooked crabs and picked meat in the coldest part of your refrigerator or "meat keeper" at 32 degrees F and use within two days.
PREPARATION
• Keep raw and cooked seafood separate to prevent bacterial cross-contamination.
• After handling raw seafood thoroughly wash knives, cutting surfaces, sponges and your hands with hot soapy water.
• Always marinate seafood in the refrigerator.
• Discard marinade; it contains raw juices which may harbor bacteria.
• When marinade is needed for basting reserve a portion before adding raw seafood.
COOKING
• Add live Golden Crab to a pot of boiling, seasoned water. Completely submerge the crab and simmer for 16 minutes, drain and rinse under cold running water.
• The crab is done when the legs can be easily pulled from their joint.
• Serve cooked clusters with drawn butter.
• Add cooked picked meat to main dishes.
NUTRITION
Nutritional values for approximately 4 ounces (114 grams) of raw, edible portions
Calories 80
Calories From Fat 15
Total Fat 1.5 g
Saturated Fat 0 g
Cholesterol 50 mg
Sodium 280 mg
Total Carbohydrates 0 g
Protein 16 g
Florida Department of Agriculture and Consumer Services www.fl-seafood.com