See also: Tips to Tailgate At Home; 'Cued Corn Salad;
Grilled Gridiron Grinders; Linebacker Barbecue Potatoes
HALF TIME GRILLED CHICKEN RECIPE

Tailgate Grilling Recipes #4
Half Time Grilled Chicken
Makes: 4 servings
Prep time: 8 to 12 hours for marinating)
Cook time: 2 hours
Ingredients:
Marinade
~ 6 tablespoons extra-virgin olive oil
~ ¼ cup peanut oil
~ ¼ cup chopped fresh parsley
~ 2 tablespoons chopped fresh basil
~ 2 tablespoons chopped fresh oregano
~ 2 tablespoons fresh lemon juice
~ 2 tablespoons Dijon mustard
~ 4 teaspoons Worcestershire sauce
~ 4 teaspoons brown sugar
~ 1 clove garlic, minced
~ 2 teaspoons salt
~ ½ teaspoon black pepper
~ 2 split chicken halves (about 3 pounds)

Directions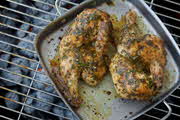 Mix the marinade ingredients in a small bowl and whisk until well blended. Place the split chicken halves in a re-sealable GLAD Food Storage Bag and pour in the marinade. Seal the bag and marinate the chicken in the refrigerator for 8 to 12 hours.

Build a charcoal fire for indirect cooking in an outdoor grill. When the temperature is approximately 375 degrees Fahrenheit, remove the chicken from the marinade and place the chicken halves, skin-side-up, in a nine-inch baking pan. Pour the remaining marinade over the chicken. Place the pan over indirect heat, cover the grill, and cook for 2 hours or until the internal temperature of each thigh reaches 175 degrees Fahrenheit. Baste with pan drippings before serving.
Recipe created by champion pitmaster, Chris Lilly, on behalf of Kingsford® charcoal