Linebacker Barbecue Potatoes Recipe
See also:
Tips to Tailgate At Home;
'Cued Corn Salad;
Grilled Gridiron Grinders
Half Time Grilled Chicken

Tailgate Grilling Recipes #3
Linebacker Barbecue Potatoes
Makes: 4-6 servings
Prep time: 10 minutes
Cook time: 1 1/2 hours

Ingredients:
· 4-6 extra large baked potatoes
· 8 ounces sour cream
· 2 tablespoons Hidden Valley® Ranch dry seasoning mix
· 8 ounces whipped butter or margarine
· 3 cups fine shredded cheddar cheese
· 1/3 cup chopped fresh scallions
· 6-8 slices cooked bacon, crumbled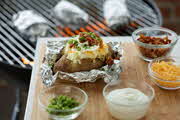 Directions
Prepare your outdoor grill for indirect heat, by building a charcoal fire on one side of the grill, leaving the other side void. Preheat the grill to 450 degrees Fahrenheit.

Wash the potatoes and wrap them with aluminum foil. Place the wrapped potatoes over the void side of the grill, close the grill lid, and cook for 1½ hours or until the potatoes soften. Remove the potatoes and set aside.

In a small bowl, mix the sour cream and the Hidden Valley® Ranch Seasoning mix.

Cut each potato open and add butter, seasoned sour cream, cheese, scallions, and bacon bits. For added impact, try topping your overstuffed potatoes with grilled chicken, turkey, beef, or pork.
Recipe created by champion pitmaster, Chris Lilly, on behalf of Kingsford® charcoal