GRILLED GRIDIRON GRINDERS RECIPE
See also:
Tips to Tailgate At Home;
'Cued Corn Salad;
Linebacker Barbecue Potatoes;
Half Time Grilled Chicken

Tailgate Grilling Recipes #2
GRILLED GRIDIRON GRINDERS
Makes: 6 servings
Prep time: 15 minutes
Cook time: 20 minutes
Ingredients:
· 12 fresh tomatillos – peeled and rinsed well
· 1 small yellow onion – peeled and coarsely chopped
· 2 cloves garlic – peeled and smashed
· 1 ½ pounds flank steak
· salt and pepper (to taste)
· 1 package Hidden Valley® Ranch dry seasoning mix
· 1 pinch dried red pepper flakes (optional)
· 6 hamburger buns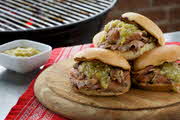 Directions (Salsa Verde)
Place the tomatillos, onion and garlic on a lightly-oiled baking sheet and grill over Kingsford® charcoal, turning often, until the onion is crispy and tomatillos have burst – about three to five minutes.

Remove from the grill to cool. Once cool, place the ingredients in the work bowl of a food processor and puree until desired consistency. This can be done up to three days in advance if kept chilled in an air tight container.

Directions (Steak)
Place the flank steak on a sheet of GLAD Press'n Seal® large enough to cover the steak once folded. Season the steak with salt and pepper. Liberally dust each side of the steak with Hidden Valley® Ranch dry seasoning mix, then sprinkle with red pepper flakes, if using. Wrap tightly in the GLAD Press'n Seal® and chill for one to two hours.

Remove the steak from the refrigerator about 15 minutes before grilling over Kingsford® charcoal. Unwrap the steak and grill over medium heat for five to seven minutes on each side or until you reach an internal temperature of 150 degrees Fahrenheit – allow the steak to rest covered for five minutes. Lightly toast the hamburger rolls. Serve the steak sliced over the rolls generously topped with the salsa verde.
Recipe created by football analyst, Mike Golic, on behalf of Kingsford® charcoal